✞ Out Of The Dark ✞
Member for 4 years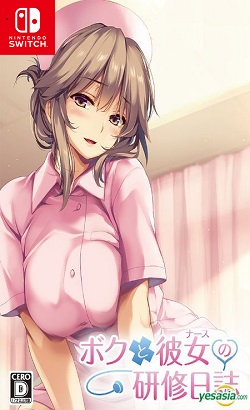 Title:
Boku to Nurse no Kenshuu Nisshi
Release Date:
Sep 02, 2019
Category:
Adventure
Publisher:
Entergram
Format:
NSP
Title ID:
010093700ECEC000
Title Size:
709 MB
Language:
Japanese
Required Firmware:
8.1.0
CFW:
8.1.0 + Atmosphere 0.9.3
Entergram's 2D Adventure love visual novel Boku to Nurse no Kenshuu Nisshi NSP is now available for Switch.
Description:
On the first day of his residency at the hospital, the first step to fulfilling his dream of becoming a doctor, Takuya met his childhood friend Mio for the first time in many years. She was now a nurse and showed him around during his busy training days. One day, he fell down the stairs while protecting her and broke his right arm and left leg. As a result, his residency was put on hold while he was hospitalized. He was placed in Mio's ward and she felt responsible for the accident. To cheer her up, he suggested that she could take care of him whenever she has free time, to which she readily agreed. It is the beginning of a hospital love story between a medical intern and a nurse who would go above her duties to take care of him.
Easy girl games can enjoy "Purekano" series. Heroine and a special space of just the two of people, please enjoy the special moments of cute with her! The first step to becoming a doctor was a dream. The day was appointed to the hospital as residents, the main character is reunited with childhood friend and the first time in a few years became a nurse. While taught that fine to her to become a senior in the hospital, hero to spend the day-to-day busy training. One day, the main character ends up falling from the stairs a bullet for her. He broke his right arm and left leg, to fit that would be forced to hospital living temporarily interrupted training.
Download Link:
Sign Up for Free
or
Login
to view this content.
Since you're viewing the AMP-accelerated version of our website which doesn't store login cookies, please scroll to the bottom of this page and click on the "View Non-AMP Version" button first, thanks!
Downloaded 3 times