SB Cartel
Max Level
Member for 4 years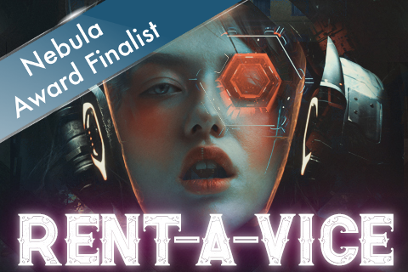 [Choice of Game] Rent-a-Vice v.1.0.6 ACOM MOD
​
Name of the game:
Rent-a-Vice
Version:
v.1.0.6
Root needed?
No: you can play and install this app without root permissions.
Internet required?
No: you can play this game even without any Internet Connection.
Game Description:
Rent-a-Vice
What doesn't kill you...kills someone else, and leads you down an ethical rabbit hole. In the near future, paying users can rent the "virtual experiences" of other people. These "feeders" sublet their own bodies, at the risk of their own lives, so that customers can safely enjoy extreme, potentially self-destructive vices, like binge eating, cliff diving, or worse.

"Rent-a-Vice" is a 150,000-word interactive cyberpunk-noir mystery novel by Natalia Theodoridou, where your choices control the story. It's entirely text-based—without graphics or sound effects—and fueled by the vast, unstoppable power of your imagination.

You're a private investigator with a bad habit, an ex, and mountains of debt--troubles so deep that you stand to lose custody of your kid. When a mysterious client asks for your help finding their missing lover in the seamy world of virtual experience, it's up to you to gather evidence, experience the technology for yourself, and solve the case.

Delve into the darkest corners of the clandestine Rent-a-Vice industry. If you believe the etho-politicians, VE compromises the well-being of society, and normalizes vice and disorder. But what are users after? Is it entertainment, or something deeper? And is there anything in it for the feeders, other than profit?

As for you, will you resist your own vices, or go all in?

• Play as male, female, or non-binary; gay, straight, or bisexual.
• Fight or embrace your personal demons, struggle against the machinery of power, and find friendship in unlikely places.
• Save those in trouble or extort them for your silence, or go rogue and burn the entire industry to the ground.
• Expose corruption or exploit it for your gain.
• Test your skills as a PI while you share other people's experiences of life and death.
• Trade favors to retain custody of your child; reunite with your ex, or find romance with someone new.
• Become a champion for the marginalized, usher in a new ethical standard, or step on corpses to climb to the top.
Google Play Store Link:
Code:
https://play.google.com/store/apps/details?id=com.choiceofgames.rentavice
MOD Features:
[ @Axiom 's Choice Of MOD ]
+
[ 's 90% MOD ]
Completely Unlocked
AD Free
​
What Can You Do?
Charming: 90%

Good with fists: 90%

Well-connected: 90%

Intimidating: 90%

Good at lying: 90%

Parenting: 90%
What Have You Got?
A loaded gun tucked in your jeans.
You have $7777 credits worth of cash on you.
You have $967967967 credits in your account.
That makes $967975744 in total.
You also owe $500 credits. That's quite a lot of money [ :lol: ].
How Are You Feeling?
Reflexes: 90%

Willpower: 90%

Addiction: 1% [Never Increase]
Health: 100% You are perfectly healthy.[Never Decrease]
YouTube Video:
This gameplay hasn't been recorded yet. If you would like to thank Phytoplankton for this release, record your gameplay and share it
here
. You'll also gain SB Points!
Installation Instructions:
Download the desired APK file below and tap on it to install it on your device. Make also sure to uninstall your game first if you have it installed!
Credits to:
Phytoplankton
Download Link(s):
Sign Up for Free
or
Login
to view this content.
Since you're viewing the AMP-accelerated version of our website which doesn't store login cookies, please scroll to the bottom of this page and click on the "View Non-AMP Version" button first, thanks!
Downloaded 85 times
This and all my MODs are possible because of AXIOM
Please Dont Forget to Thank @Axiom
​
Last edited by a moderator: