Venomous Gourovirus
Staff member
Moderator
✌️ Community Team
Approval Team
✔ Approved Releaser
🎮 Mod Tester
Active User
Member for 3 years
Situation Boyfriend v28.1.5 !! Free In-App Purchases with
SB Patcher
v9.8.9.8(updated)
Name of the game:
Situation Boyfriend
Version:
v28.1.5
Root needed?
No: you can play and install this app without root permissions.
Internet required?
Yes: you need an active Internet Connection to play this game.
Game Description:
We present "Situation Boyfriend", a free voice app with a outstanding cast! All the tracks are recorded with a dummyhead microphone so be sure to use earphones or headphones!

◆ What is "Situation Boyfriend"? ◆

A voice app that makes you feel better with the help of a gorgeous cast as your boyfriend, all just a tap away.

◆ Cast in order of appearance ◆

Yoshitsugu Matsuoka
Toshiki Matsuda
Takashi Kondou
Natsuki Hanae
Kaito Ishikawa
Souma Saitou
Ryouta Oosaka
Atsushi Tamaru
Ayumu Murase
Masatomo
Sho Okumura
Hidenori Takahashi
Kengo Kawanishi
Seiichiro Yamashita
Yuusuke Kobayashi
Yuuichirou Umehara
Yuusuke Shirai
Taku Yashiro
Taishi Murata
Ryouta Asari
Tetsuya Kakihara
Wataru Urata
Akira Sakata
Nakamura Shuugo (New)

◆ Special Series Cast ◆

Nobuhiko Okamoto
Takuya Eguchi
Tetsuya Kakihara
Hikaru Midorikawa
Kousuke Torumi
Kazuhiko Inoue
Ryuutarou Okiayu
Taiten Kusunoki
Toshiyuki Morikawa

◆ Introducing your boyfriends ◆


[NEW! !] Request Boyfriend Case 1: Ayato
CV: Akira Sakata

"Your expressions are so cute when I kiss you."


◆ Other Boyfriends ◆

1. Feverish Boyfriend
CV: Yoshitsugu Matsuoka (Sword Art Online)

2. Home Date
CV: Toshiki Masuda (B-PROJECT)

3. Contract Boyfriend
CV: Takashi Kondo (DIABOLIK LOVERS)

4. Idol Boyfriend
CV: Natsuki Hanae (Tokyo Ghoul)

5 & 13. Overprotective Boyfriend
CV: Kaito Ishikawa (Hatsukoi Monster)

6. Kiss Me at School
CV: Souma Saito (91 Days)

7. Kabe-don Boyfriend
CV: Ryouta Oosaka (Daiya no Ace)

8 & 15. When You Fall Asleep
CV: Atsushi Tamaru (Touken Ranbu)

9. Head Over Heels
CV: Ayumu Murase (D.Gray-man HALLOW)

10. Warmth of His Embrace
CV: Masatomo Nakazawa (DRAMAtical Murder)

11. My Younger Boyfriend
CV: Seiichiro Yamashita (Orange)

12. Enchanted Boyfriend
CV Yuusuke Kobayashi (Re: Zero Life in Another World)

14. Sugar Sweet Boyfriend
CV Yuiichirou Umehara (Ensemble Stars)

16. Sleep Well: Yukito
CV. Yuusuke Shirai (Idolish7)

17. Loving Boyfriend: Shin
CV Taku Yashiro (Idolm @ ster SideM)

18. Taking Command: Jun
CV. Taishi Murata (Baby Steps)

19. Home Date: Haruma
CV: Ryouta Asari (D.Gray-man HALLOW)

20. When You Fall Asleep: Manato
CV: Tetsuya Kakihara (FAIRY TAIL)

21. Yandere Boyfriend
CV: Wataru Urata (ALL OUT !!)

◆ Extra: À la Carte ◆

Themes:
Vol 1. Humanoid
Vol 2. Encouragement

CVs: Sho Okumura (Fire Emblem: if)
Hidenori Takahashi (Uta no Prince-sama Season 4)
Kengo Kawanishi (Mobile Suit Gundam IRON-BLOODED ORPHANS)

◆ Special Series ◆

◇ My Younger Boyfriend ◇

Sora Sakuragi
CV: Nobuhiko Okamoto (Weekly Shoujo Magazine Nozaki-Kun)

Yuuto Ikoma
CV: Takuya Eguchi (Kuroko's Basketball)

Jun'ichi Matsunaga
CV: Tetsuya Kakihara (SERVAMP)

◇ LOVERS ONLY ◇

Shouhaku Matsuzawa
CV: Ryuunotarou Okiayu (Bleach)

Kunio Ichiyanagi
CV: Toshiyuki Morikawa (FINAL FANTASY 7)

Tomonaga Morishita
CV: Taiten Kusunoki (TIGER & BUNNY)

Bernard The Angel
CV: Kousuke Toriumi (Hakuouki)

Count Richard
CV: Kazuhiko Inoue (Naruto)

Satoru Tonegawa
CV: Hikaru Midorikawa (Icchi Banketsu)

◆ ◇ Function Guide ◆ ◇
Character Selection
Choose your situation from the main selection screen

Shop
Purchase add-on voice tracks

Album
Enjoy your favorite lines endlessly after unlocking them. You can customize your own playlist as well!

Playlist
PLUS +: Add the tracks to your playlist
PLAY: Play sound tracks that are checked
CHANGE: Change to another playlist
Google Play Store Link:
Code:
https://play.google.com/store/apps/details?id=jp.sugarapps.situationkareshi
MOD Features:
Free In-App Purchases with SB Patcher v9.8.9.8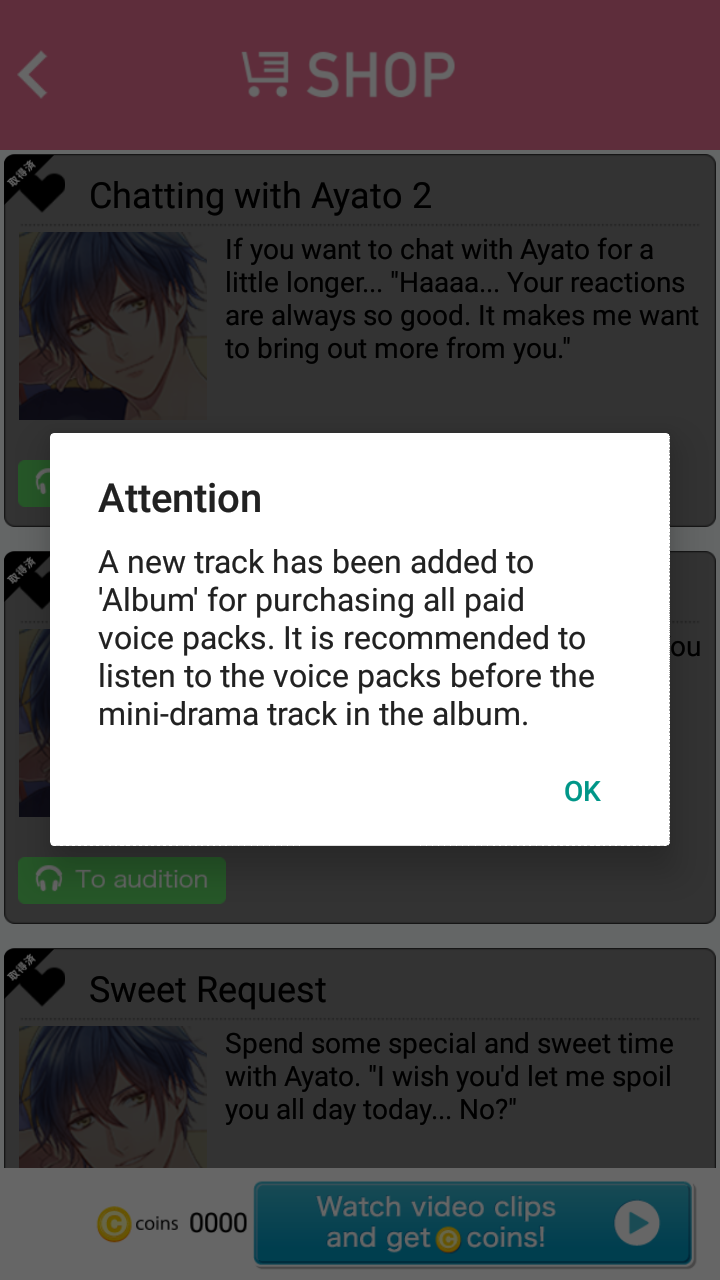 YouTube Video:
No videos yet. If you would like to thank Gourov and gain some extra SB Points, record your gameplay and share it
here
.
Installation Instructions:
This app is patched using
SB Patcher
٫ so you'll need to have this app installed on your device or the hack will not work:
SB Patcher + MOD
.
Credits to:
Gourov
Download Link(s):
Sign Up for Free
or
Login
to view this content.
Since you're viewing the AMP-accelerated version of our website which doesn't store login cookies, please scroll to the bottom of this page and click on the "View Non-AMP Version" button first, thanks!