SB Cartel
Lv. Max
✔ Approved Releaser
eBook Releaser
Active User
Member for 2 years
SB Cash
Gender

Male
Country

Sbennytopia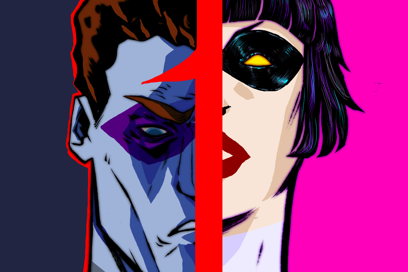 [Choice of Game] Heroes Rise: HeroFall .v.1.2.1

​
💾 Name of the game:
Heroes Rise: HeroFall
⌛️ Version:
v.1.2.1
Root needed?
No: you can play and install this app without root permissions.
📡 Internet required?
No: you can play this game even without any Internet Connection.
Game Description:
Heroes Rise: HeroFall
Writer: Zachary Sergi

Art: Vasilis Lolos

Beta Testers: @mmorr0514

ChoiceScript Language Design & Development: Dan Fabulich
Would a hero like you assassinate the president of the United States to defend the right to be Powered?
As the corrupt President Victon launches his oppressive campaign of Powered Regulation, your Legendary heroic rise transforms into something much more: you must become a political icon fighting to restore Powered rights in America. This new battle takes a twisted turn when your once-greatest enemy, Prodigal, tells you President Victon's darkest secret....
Now you are faced with the biggest choices of your career: Do you trust the word of your archenemy? Will you evade President Victon's gang of criminal bounty hunters? Can you save your family and complete your rise as a Legendary hero?
Heroes Rise: HeroFall completes the epic Heroes Rise trilogy by Zachary Sergi, featuring the smash hits Heroes Rise: The Prodigy and Heroes Rise: The Hero Project, interactive novels where your choices control the story. The Heroes Rise trilogy is entirely text-based—without graphics or sound effects—and driven by the vast, unstoppable power of your imagination.
All of your decisions lead to this epic conclusion, where you must truly define what you believe is right and what you stand for as a hero—and what (or whom) you're willing to sacrifice for those ideals. Play as male or female, gay or straight, and decide how your story will end. How many alternate endings can you unlock?
How high will you rise?
Google Play Store Link:
Code:
https://play.google.com/store/apps/details?id=com.choiceofgames.herofall
🔮MOD Features:
[ @Axiom 's Choice Of MOD ]
+
's 90% MOD
Completely Unlocked
AD Free
​
MOD:
Power: 1000%
Health: 1000%
Money: $967967967
Legend: 90
Relationships:
Grandma: 90%
Jenny: 90%
The Victons: 90%
Prodigal: 90%
The American Protectorate: 90%
Black Magic: 90%
Lucky: 90%
World Statistic:
Anti-Powered Sentiment: 1% [Never Increase]
YouTube Video:
This gameplay hasn't been recorded yet. If you would like to thank Phytoplankton for this release, record your gameplay and share it
here
. You'll also gain SB Cash!
⚙️Installation Instructions:
Download the desired APK file below and tap on it to install it on your device. Make also sure to uninstall your game first if you have it installed!
MOD Author:
Phytoplankton
Download Link(s):
This and all my MODs are possible because of AXIOM
Please Dont Forget to Thank @Axiom
​
Last edited: