SB Cartel
Lv. Max
✔ Approved Releaser
eBook Releaser
Active User
Member for 2 years
SB Cash
Gender

Male
Country

Sbennytopia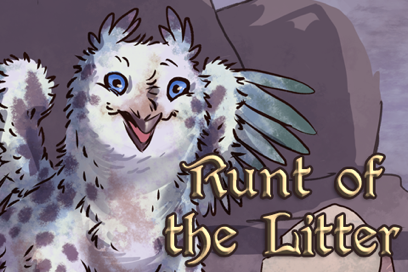 Title:
[Choice of Game] Runt of the Litter v.1.2.5 ACOM MOD
💾 Name of the game:
Runt of the Litter
⌛️ Version:
v.1.2.5
Root needed?
No
📡 Internet required?
No
Game Description:
Runt of the Litter
Writer: Kelly Sandoval

Art: Nilah Magruder

ChoiceScript Language Design & Development: Dan Fabulich
Steal and raise a baby war gryphon! Will you fight dragons together to save the empire, or defy the empire and lead your people to freedom?

"Runt of the Litter" is a 150,000 word interactive fantasy novel by Kelly Sandoval, where your choices control the story. It's entirely text-based—without graphics or sound effects—and fueled by the vast, unstoppable power of your imagination.

The gryphon keepers hold all the power in the Empire of Vaengrea. They make the laws, patrol the borders, and only give gryphon eggs to their chosen heirs. As a poor stable hand, a "thrall," you know you'll never have a chance to prove yourself.

But then, you find the egg. Small, neglected, nudged out of the nest by a disapproving mother. But you can feel warmth growing inside.

Now your gryphon is in terrible danger, both from the other gryphon keepers and from a deadly plague that's wiping out the Empire's gryphons. Can you keep your gryphon safe? Where will you hide your new hatchling? Are you skilled enough to hunt its food or clever enough to steal it? Which of the gryphon keepers can you trust? How will you shape the young gryphon's mind?

Wyrm riders invade from the north on their fire-breathing dragons, the natural enemy of the gryphons. Will you and your gryphon fight in the war, seizing your place among the elite? Or will you defy the empire and lead your fellow thralls to revolution?

Can you keep a runt gryphon safe with the whole world against you? The life of your gryphon, and the fate of an empire, is in your hands.

• Play as any gender and as gay, straight, or asexual
• Choose from a variety of unusual gryphon breeds
• Raise your gryphon with a gentle hand or demand obedience
• Find romance among your fellow thralls or steal the heart of a gryphon keeper
• Rise to the rank of gryphon keeper or lead your fellow thralls to freedom
• Battle fire-breathing wyrms to protect your empire
• Find a cure for the devastating gryphon plague
Google Play Store Link:
Code:
https://play.google.com/store/apps/details?id=com.choiceofgames.runtofthelitter
🔮MOD Features:
Full Unlocked A.C.O.M
(Axiom's Choice Of MOD)
Completely Unlocked
AD Free
MOD:
Thrall: 90%
​
Ruthlessness: 90%
​
Charm: 90%
​
Knowledge: 90%
​
Supplies: 100% - Wyram's Hoard
​
Respect:

100% -

Gryphon Hearted
​
Followers:
100% -
Loved By ALL
​
Gryphon:
Health: 90%
​
Aggression: 90%
​
Playfulness: 90%
​
Loyalty: 90%
​
Independence: 90%
​
Relationships:
Taisiir: 90%
​
Eini: 90%
​
Neeris: 90%
​
Arvo: 90%
​
YouTube Video:
This gameplay hasn't been recorded yet. If you would like to thank Phytoplankton for this release, record your gameplay and share it
here
. You'll also gain SB Cash!
⚙️Installation Instructions:
Download the desired APK file below and tap on it to install it on your device. Make also sure to uninstall your game first if you have it installed!
MOD Author:
Phytoplankton
Download Link(s):
Please Dont Forget to Thank @Axiom
​
Last edited: