SB Cartel
Lv. Max
✔ Approved Releaser
eBook Releaser
Active User
Member for 2 years
SB Cash
Gender

Male
Country

Sbennytopia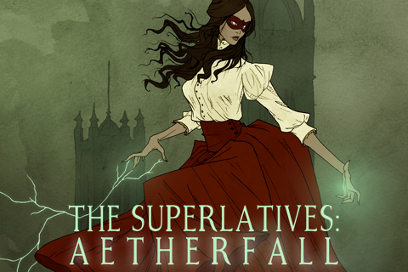 [Choice of Game] The Superlatives: Aetherfall v.1.1.3 ACOM MOD (updated)
​
💾 Name of the game:
The Superlatives: Aetherfall
⌛️ Version:
v.1.1.3
Root needed?
No: you can play and install this app without root permissions.
📡 Internet required?
No: you can play this game even without any Internet Connection.
Game Description:
The Superlatives: Aetherfall
Writer: Alice Ripley
Art: Abigail Larson
Beta Testers: @mmorr
ChoiceScript Language Design & Development: Dan Fabulich
Lead a superpowered team of "Superlatives" to defend 19th-century Victorian London! Battle a Martian warship, clockwork monsters, and nefarious inventors.

"The Superlatives: Aetherfall" is a 260,000-word interactive novel by Alice Ripley. It's entirely text-based, without graphics or sound effects, and fueled by the vast, unstoppable power of your imagination.

The prestigious Society for the Advancement of Individuals of Superlative Talent and the Protection of the Queen has invited you to become their newest member! But on the very day the Society plans to initiate you, unknown Villains destroy the Society headquarters and kidnap your colleagues! As the sole remaining full member of the Superlative Society, you must initiate new recruits to investigate the abduction.

Meet your team: Nimble—faster than lightning; Wailer—a "banshee" with sharp blades and sonic shriek attacks; Arturek—the gruff Martian warrior; Tua—a Venusian who commands the power of plants; and Black Orchid—a strangely familiar new recruit. Your efforts are bolstered by your faithful Clockwork assistant, Gatsby, and your always-butting-in rival, Hallow.

Will your gain your team's trust and convince them to work together, or will they fall apart under the pressure? Will you cut a deal with London's Villains, or even turn the Society into Villains yourself? Will you trust the mysterious Dusk and Mr. Ink, who offer you help, or will you uncover their many secrets?

• Play as male, female, or nonbinary; gay, straight, bisexual, asexual, or aromantic
• Draw power from your preternatural nature, alien heritage, or genius gadgets
• Protect the Earth from torrential aetherfalls
• Keep your identity secret from your nosy landlady, Mrs. Rathbone
• Negotiate with minute Mercurian monarchs (Mercurians stand only four inches tall)
• Push your teammates to transcend their origins or pursue their destiny
• Foil the Nefarious Clockwork Contraptions of Dr. Eisengeist and discover his origins

Don your mask, take to the skies, and God save the Queen!
Google Play Store Link:
Code:
https://play.google.com/store/apps/details?id=com.choiceofgames.superlatives
🔮MOD Features:
MOD:
​
The Society:
​
Social Entanglements:
​
Interplanetary Reputation:
​
Completed Base Improvements:
Overall Base Repair: 90%
​
YouTube Video:
No videos yet. If you would like to thank Phytoplankton and gain some extra SB Cash, record your gameplay and share it
here
.
⚙️Installation Instructions:
Download the desired APK file below and tap on it to install it on your device. Make also sure to uninstall your game first if you have it installed!
MOD Author:
Phytoplankton
Download Link(s):
Please Dont
Ever Forget to Thank @Axiom for Making All This Possible
​