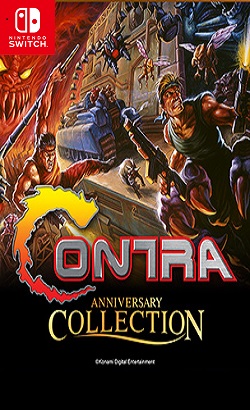 Title:
Contra Anniversary Collection
Release Date:
Jun 11, 2019
Category:
Action, Arcade
Publisher:
Konami
Type:
eShop
Format:
NSP
Title ID:
0100DCA00DA7E000
Title Size:
494 MB
Language:
En, Fr, De, It, Es
Required Firmware:
8.0.1
CFW:
8.0.1 + Atmosphere 0.9.0
Description:
Grab power ups and blast your way through waves of menacing enemies and bosses that will put your reaction skills to the test. Also included is a digital Bonus Book with tons of concept documents and sketches, the official chronology of the franchise, an exclusive interview with the veteran producer of the series, and more!
Alone or with a friend, Contra provides hours of nail biting action. In a pinch; make sure you know the code! 1) Contra (Arcade) 2) Super Contra Contra (NA) 3) Contra (JP) 4) Super C 5) Contra III: The Alien Wars 6) Operation C 7) Contra Hard Corps 8) Super Probotector Alien Rebels 9) Probotector.
Download Link: