Good Pizza, Great Pizza MOD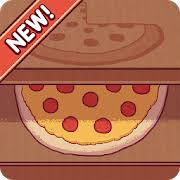 💾 Name of the game:
Good Pizza, Great Pizza
⌛️ Version:
v2.9.9.2
Root needed?
No: you can play and install this app without root permissions.
📡 Internet required?
No: you can play this game even without any Internet Connection.
Game Description:
Ever wanted to know what it feels like to run your own Pizza shop? Now you can with TapBlaze's newest game, Good Pizza, Great Pizza! Do your best to fulfill pizza orders from customers while making enough money to keep your shop open. Upgrade your shop with new toppings and equipment to compete against your pizza rival, Alicante!

GAME HIGHLIGHTS


Featuring Pizza News Network (PNN), the first newscast about all things pizza.

Over 80 customers with unique pizza orders and personalities.

Pizza toppings including pepperoni, sausage, onions, and more.

Equipment upgrades to help you become the master ovenist.

Simple, fun and challenging gameplay.

Created by pizza making professionals; the game designer worked in a pizza kitchen for four years!
Google Play Store Link:
Code:
https://play.google.com/store/apps/details?id=com.tapblaze.pizzabusiness
🔮MOD Features:
Free in app purchases
YouTube Video:
No videos yet. If you would like to thank Cheettat and gain some extra SB Cash, record your gameplay and share it
here
.
⚙️Installation Instructions:
Download the desired APK file below and tap on it to install it on your device. Make also sure to uninstall your game first if you have it installed!, This is NOT a traditional MOD APK: this is a "Pre-Patched apk" and you MUST have LP (
Lucky Patcher
) installed in your device to use this. You do not need to create a patched apk but only to tap "YES" when prompted by LP. Be sure you're using the last version of LP to make sure it works for you (or the one available at the time this thread has been created).
You can download Lucky Patcher by clicking here
.
MOD Author:
Cheettat
Download Link(s):