SB Cartel
Lv. Max
✔ Approved Releaser
eBook Releaser
Member for 1 year
SB Cash
Gender

Not specified
Country

Sbennytopia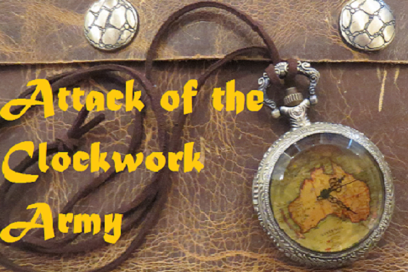 Title:
[Hosted Game] Attack of the Clockwork Army v.1.0.0 A.C.O.M MOD
💾 Name of the game:
Attack of the Clockwork Army
⌛️ Version:
v.1.0.0
Root needed?
No
📡 Internet required?
No
Game Description:
Attack of the Clockwork Army
Writer: Felicity Banks

Beta Testers: @Cicibby09

Splashscreens: Felicity Banks

Icons: Vince Varga

ChoiceScript Language Design & Development: Dan Fabulich
Win the Steam-Powered Fight for a Nation!
When the battle for Australia begins, will you join Her Majesty's new clockwork army to keep Australia peacefully British once and for all—or will you cast your lot with a ragged crowd of ex-convicts?
Will you be a deadly fighter, or torn between the conflicting loyalties of those you love? Can you overcome your fatal flaw before it's too late?
Are you ready to turn the tide of history? Play to find out!
Review:
Nice Game! Really Enjoyed Playing it! Would give it 3/5
Stars! Wish could have played a lot more with that super solider!
​
Google Play Store Link:
Code:
https://play.google.com/store/apps/details?id=org.hostedgames.clockworkarmy
🔮MOD Features:
MOD
Mechanical Skill: 90%
​
Courage 90%
​
Happiness 90%
​
Relationship:
Sister: 90%
​
Emmeline: 90%
​
Satilda: 90%
​
Private Siau: 90%
​
Private William: 90%
​
​
PS: This is experimental MOD! Has not been
exhaustively tested! Please meantion me if you run into some errors! or PM @Cicibby09 She will inform me. Thank you.
​
YouTube Video:
This gameplay hasn't been recorded yet. If you would like to thank Phytoplankton for this release, record your gameplay and share it
here
. You'll also gain SB Cash!
⚙️Installation Instructions:
Download the desired APK file below and tap on it to install it on your device. Make also sure to uninstall your game first if you have it installed!
✒️Credits to:
Phytoplankton
Download Link(s):
Please Dont Forget to Thank @Axiom
Last edited: