SB Cartel
Lv. Max
✔ Approved Releaser
eBook Releaser
Member for 1 year
SB Cash
Gender

Not specified
Country

Sbennytopia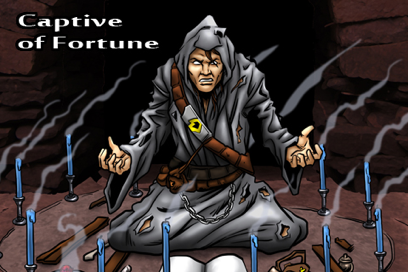 [Hosted Game] Captive of Fortune v.1.1.1 ACOM MEGA MOD
​
💾 Name of the game:
Captive of Fortune
⌛️ Version:
v.1.1.1
Root needed?
No: you can play and install this app without root permissions.
📡 Internet required?
No: you can play this game even without any Internet Connection.
Game Description:
Captive of Fortune
Writer: Samuel Harrison Young

Art: Werner Mueck

Music: Andy M. Why

Beta Testers: @mmorr0514

ChoiceScript Language Design & Development: Dan Fabulich
Battle necromancers, ogres, and the demon itself!

"Captive of Fortune" is an interactive novel by Samuel Harrison Young, where your choices control the story. It's Volume Two of "Demons Among Men," the sequel to "Trial of the Demon Hunter." The game is text-based with occasional vivid illustrations and a unique sound track – and driven by the vast, unstoppable power of your imagination.

Continuing your journey to banish the mysterious and elusive demon, you travel to the city of Lorden, where romance and new dangers await. With new allies but even more enemies presenting themselves, the vendetta against you continues, the trials set before you leading you along a dangerous path to face your greatest challenge yet.

• Over 140,000 words
• Romance!
• Battle bandits, necromancers, ogres and trolls
• Music and illustrations to enhance your experience
• Finally confront the demon
The Demon Hunter Series by Samuel Harrison Young
​
Book 1: "
MOD APK - [Hosted Game] Foundation of Nightmares v.1.0.4 ACOM MOD"
Book 2: "
MOD APK - [Hosted Game] Captive of Fortune v.1.1.1 ACOM MEGA MOD"
Book 3: "
MOD APK - [Hosted Game] Foundation of Nightmares v.1.0.4 ACOM MOD"
Google Play Store Link:
Code:
https://play.google.com/store/apps/details?id=org.hostedgames.captiveoffortune
🔮MOD Features:
BASIC INFORMATION:
ATTRIBUTES:
Cunning: 90%

Charisma: 90%

Stealthiness: 90%

Resolve: 90%
HEALTH, INVENTORY AND OTHER INFORMATION:
Vitality: 500

Apprentice's Mana: 7000

Gilded Pieces: $967967967
Apprentice's Transformation: Eagle (Requires 3 Mana)
Inventory:
700 poisonous darts,

700 Destruction Grenades

700 Tear Gas Grenades

700 Concussion Grenades

Iron Shavings 8/8,

Salt,

Teleportation

Tune,

A Full Jar Of Healing Ointment,
Wind Scythe potion,
Flame Devil potion,
Gnawing Frost potion,
Earth Abyss potion,

A Peculiar Amulet,

the Ring of Owls,
the Ring of Lions,
the Ring of Dragonflies,
the Ring of Spiders,

A Fancy Backpack,

Demon Book of Names.
RELATIONSHIPS:
Relationship With Kidas: 90%

Relationship With Illusia: 90%

Relationship With Falcon: 90%

Relationship With Callidus: 90%

Relationship With Gertrude: 90%

Relationship With Garnet: 90%

Relationship With Gretta: 90%

Relationship With Gretchin: 90%

Relationship With Lorelle: 90%

Relationship With Vidar: 90%

Relationship With Ceylar: 90%

Relationship With Melithar: 90%
YouTube Video:
No videos yet. If you would like to thank Phytoplankton and gain some extra SB Cash, record your gameplay and share it

here

.

⚙️Installation Instructions:

Download the desired APK file below and tap on it to install it on your device. Make also sure to uninstall your game first if you have it installed!

✒️Credits to:

Phytoplankton





Download Link(s):


MOD v1: 60% MOD v2: 75% MOD v3: 90% All MODs Bundle:

Please Dont

Ever Forget to Thank @Axiom for Making All This Possible

​
Last edited: