SB Cartel
Lv. Max
✔ Approved Releaser
eBook Releaser
Active User
Member for 2 years
SB Cash
Gender

Male
Country

Sbennytopia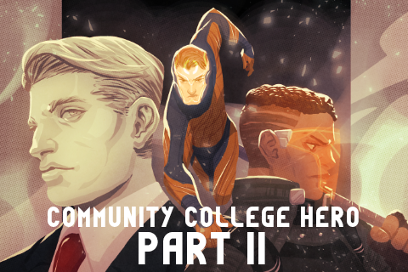 [Hosted Game] Community College Hero: Knowledge is Power v.1.0.3 ACOM MOD
​
💾 Name of the game:
Community College Hero: Knowledge is Power
⌛️ Version:
v.1.0.3
Root needed?
No: you can play and install this app without root permissions.
📡 Internet required?
No: you can play this game even without any Internet Connection.
Game Description:
Community College Hero: Knowledge is Power
Writer: Eric Moser

Art: Adrienne Valdes

Beta Testers: @mmorr0514

ChoiceScript Language Design & Development: Dan Fabulich
You survived the fall semester, but things are heating up this winter in Speck, Nebraska! A new villain with mysterious motives emerges to terrorize your city! New professors push you and your classmates harder than ever before! New information is revealed about Zenith-training schools in New York and San Francisco! And if that's not enough, one of the world's deadliest villains has promised to return before the end of the semester to finish what she started in the fall!
"Community College Hero: Knowledge is Power" is a superpowered 200,000 word interactive novel by Eric Moser, where your choices control the story. It's entirely text-based—without graphics or sound effects—and fueled by the vast, unstoppable power of your imagination.
• Seek retribution for your classmate's death or focus on protecting the innocent!
• Pursue Zenith power, study battle tactics, or plan to revive the villainous mantle of Dr. Stench!
• Match wits with a mysterious new non-Zenith villain!
• Travel to other cities to rub shoulders with world famous heroes!
• Prepare with your friends and professors for the return of the murderous Manipulator!
Google Play Store Link:
Code:
https://play.google.com/store/apps/details?id=org.hostedgames.communitycollegehero2
🔮MOD Features:
[ @Axiom 's Choice Of MOD ]
+
[ 's 90% MOD ]
Completely Unlocked
AD Free
​
Stats:
Pow: 91

Zap: 90

Thud: 90

Whoosh: 91

Shhh: 90

Hmmm: 90

Yay: 62%

Ouch: 1%
Money: $967967967
Persona:
Charmer: 81%

Jokester: 92%

Brooder: 81%

Traditionalist: 81%
School Preference:
Speck: 84%

Savior: 73%

Prestige: 83%
Relationships:
Tress: 90%

Crook: 90%

Mob: 90%

Dirty Girl: 90%

Combat Wombat: 90%

Stoic: 90%

Stunner: 90%

Professor McCormick: 90%

The Hedonist: 90%

Dean Tolly: 90%

Captain California: 90%

Professor Tolliver: 90%

Mom: 90%

Downfall: 90%

Origami: 90%
YouTube Video:
This gameplay hasn't been recorded yet. If you would like to thank Phytoplankton for this release, record your gameplay and share it
here
. You'll also gain SB Cash!
⚙️Installation Instructions:
Download the desired APK file below and tap on it to install it on your device. Make also sure to uninstall your game first if you have it installed!
MOD Author:
Phytoplankton
Download Link(s):
This and all my MODs are possible because of AXIOM
Please Dont Forget to Thank @Axiom
​
Last edited: