SB Cartel
Lv. Max
✔ Approved Releaser
eBook Releaser
Member for 1 year
SB Cash
Gender

Not specified
Country

Sbennytopia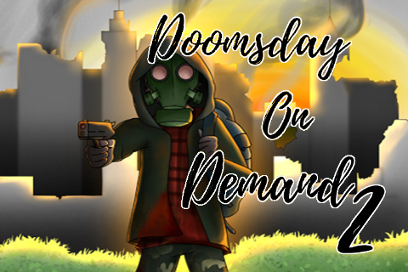 [Hosted Game] Doomsday on Demand 2 v.1.0.0 ACOM MOD
​
💾 Name of the game:
Doomsday on Demand 2
⌛️ Version:
v.1.0.0
Root needed?
No: you can play and install this app without root permissions.
📡 Internet required?
No: you can play this game even without any Internet Connection.
Game Description:
Doomsday on Demand 2
Writer: Norbert Mohos

Beta Testers: @mmorr0514
Art: DittoQueeno

ChoiceScript Language Development & Design: Dan Fabulich
Picking up where you left off, you will encounter new challenges and face tough decisions in the hope to finally escape the living nightmare in the districts that only became worse. Decide whom you will trust, and how will you achieve your goal. It's kill or be killed.
"Doomsday on Demand 2" is a 135,000 word interactive novel by Norbert M., where your choices control the story. It's entirely text-based—without graphics or sound effects—and fueled by the vast, unstoppable power of your imagination.
• Face deadly enemies varying from mutants to humans.
• Decide who you'll trust. Strengthen your friendship, or make enemies.
• Uncover the secrets the destroyed world has to offer while surviving in the districts.
• Choose your own personality and end pursue your goal to finally end the living nightmare.
Google Play Store Link:
Code:
https://play.google.com/store/apps/details?id=org.hostedgames.doomsdayondemand2
🔮MOD Features:
[ @Axiom 's Choice Of MOD ]
+
[ 's 90% MOD ]
Completely Unlocked
AD Free
​
Personal Information:
Name: Phytoplankton Charr
Age: 16
Clothes: Blue shirt, dark-brown jacket, blue jeans.
Reputation:
Ivan: 90%

Gannon: 90%

Keith: 90%

Lily: 90%

Matt: 90%
Backpack: A gas mask, 90 Filters, a pistol, a military knife, 90 bullets, an old faded Identification Card.
YouTube Video:
This gameplay hasn't been recorded yet. If you would like to thank Phytoplankton for this release, record your gameplay and share it
here
. You'll also gain SB Cash!
⚙️Installation Instructions:
Download the desired APK file below and tap on it to install it on your device. Make also sure to uninstall your game first if you have it installed!
✒️Credits to:
Phytoplankton
Download Link(s):
This and all my MODs are possible because of AXIOM
Please Dont Forget to Thank @Axiom
​
Last edited: