SB Cartel
Lv. Max
✔ Approved Releaser
eBook Releaser
Member for 1 year
SB Cash
Gender

Not specified
Country

Sbennytopia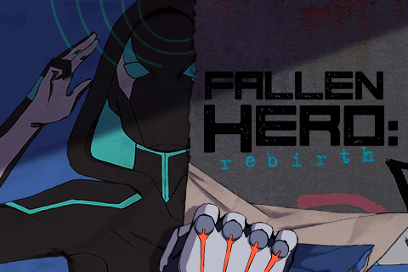 [Hosted Game] Fallen Hero: Rebirth v.1.0.4 ACOM MOD
​
💾 Name of the game:
Fallen Hero: Rebirth
⌛️ Version:
v.1.0.4
Root needed?
No: you can play and install this app without root permissions.
📡 Internet required?
No: you can play this game even without any Internet Connection.
Game Description:
Fallen Hero: Rebirth
Become the greatest telepathic villain Los Diablos has ever known! Once you were famous; soon you will be infamous. That is, unless your old friends in the Rangers stop you first. Juggle different identities and preserve your secrets as you build new alliances and try to forget the friendships you've left behind.
"Fallen Hero: Rebirth" is a 380,000 word interactive novel by Malin Rydén, where your choices control the story. It's entirely text-based—without graphics or sound effects—and fueled by the vast, unstoppable power of your imagination.
• Hone your telepathic talents, possess people and venture into their minds.
• Build your own personalized combat armor: be a terrifying super-strong behemoth, a mysterious speedster or anything inbetween.
• Make alliances or enemies in the Los Diablos underworld while you outfight and outthink the heroes set against you.
• Explore relationships as straight, gay, bisexual or aromantic. Romance a mad scientist, your former partner, or both.
• Juggle two bodies and three identities, play as male, female or genderqueer.
• Above all; make sure your past never catches up with you.
How far will you fall down the path of villainy?
Google Play Store Link:
Code:
https://play.google.com/store/apps/details?id=org.hostedgames.fallenherorebirth
🔮MOD Features:
[ @Axiom 's Choice Of MOD ]
+
[ 's 90% MOD ]
Completely Unlocked
AD Free
​
CLASSIFIED
Secret Identity: Phytoplankton Charr
Gender: Male
Description: An average white man in his thirties with black eyes and a shaved head.
Cyrus Becker is a seasoned, tech-savvy streetwise fighter. tactician.
Physical Status:
Stamina: You are rested. [Never Change]
Willpower: You feel tired. [Never Change]
Injuries: You are fine, with no significant wounds.[Never Change]
Telepathy:
Strength of Mind: 90% [Never Decrease]
Subtle Manipulations: 90% [Never Decrease]
Psychological Profile:
Infamy: 0% Obscurity: 100%
Allies and Enemies:
Lady Argent

: 90%

Mortum: 90%

Ortega

: 90%

Steel

: 90%

Herald

: 90%

Mia

: 90%
YouTube Video:
This gameplay hasn't been recorded yet. If you would like to thank Phytoplankton for this release, record your gameplay and share it
here
. You'll also gain SB Cash!
⚙️Installation Instructions:
Download the desired APK file below and tap on it to install it on your device. Make also sure to uninstall your game first if you have it installed!
✒️Credits to:
Phytoplankton
Download Link(s):
This and all my MODs are possible because of AXIOM
Please Dont Forget to Thank @Axiom
​