SB Cartel
Lv. Max
✔ Approved Releaser
eBook Releaser
Member for 1 year
SB Cash
Gender

Not specified
Country

Sbennytopia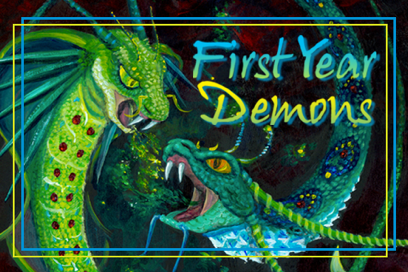 Title:
[Hosted Game] First Year Demons v.1.0.0 A.C.O.M MOD
💾 Name of the game:
First Year Demons
⌛️ Version:
v.1.0.0
Root needed?
No
📡 Internet required?
No
Game Description:
First Year Demons
Writer: Rebecca Slitt

Art: Angi Shearstone

Original Story: Ken Cushner, Talib Hussain, Li-Jun Ji, Alice Leung, Rebecca Slitt, Robert Strauss.

Beta Testers: Alice Leung, Li-Jun Ji, Ilana Gerjuoy, Ken Cushner and the students in his Intercultural Dimensions class at Kent State University. Alpha testing and additional help from David Diller, Dan Fabulich, Zhongqiang Huang, and Adam Strong-Morse.

ChoiceScript Language Design & Development: Dan Fabulich
For generations, your family has kept China safe from chaos demons. Now you must uphold that duty while you're at university--just don't tell your roommates!
"First Year Demons" is an interactive fantasy novel by Rebecca Slitt, author of "Psy High." Your choices control the story. It's two games in one: a 30,000-word educational game, and a 43,000-word version of the same story that's just for fun. Both games are entirely text-based--without graphics or sound effects--and fueled by the vast, unstoppable power of your imagination.
As the youngest member of a family with a secret and ancient duty to keep China safe from demons, you must balance your relatives' traditional values and expectations with the challenges of your first year at college and your secret study of potions, sword, and spells.
Between dormroom parties and chemistry study sessions, you'll experience battle and betrayal. You'll learn just how important it is to stay close to your family--your life may depend on it! You'll see how China is changing: maybe it's better to offer your ancestors a smartphone than to slay a demon in their memory. And above all, you must not let your friends know why you really sneak out of your dorm so late at night! Demons are all around you, and you never know what might be hiding behind a friendly face.
• Battle chaos demons
• Play as male or female, gay, straight or bi
• Hit the books, or go out and party!
• Stay close to your family or turn against them and be cast out
• Specialize in swords, magic, or potions
Google Play Store Link:
Code:
https://play.google.com/store/apps/details?id=org.hostedgames.firstyeardemons
🔮MOD Features:
Full Unlocked A.C.O.M
(Axiom's Choice Of MOD)
Unlocked
AD Free
MOD
Weapons: 90%
​
Magic: 90%
​
​
Class Rank: 1
​
Apprenticeship: 90%
​
Other:
balance 90%
​
filial 90%
​
indirect 90%
​
Interdependence 90%
​
modest 90%
​
harmony 90%
​
holistic 90%
​
hierarchy 905
​
indirect 90%
​
facesaving 90%
​
NOTE: MOD is not fully tested! Let me know if there are any errors!
YouTube Video:
This gameplay hasn't been recorded yet. If you would like to thank Phytoplankton for this release, record your gameplay and share it
here
. You'll also gain SB Cash!
⚙️Installation Instructions:
Download the desired APK file below and tap on it to install it on your device. Make also sure to uninstall your game first if you have it installed!
✒️Credits to:
Phytoplankton
Download Link(s):
Please Dont Forget to Thank @Axiom