SB Cartel
Lv. Max
✔ Approved Releaser
eBook Releaser
Member for 1 year
SB Cash
Gender

Not specified
Country

Sbennytopia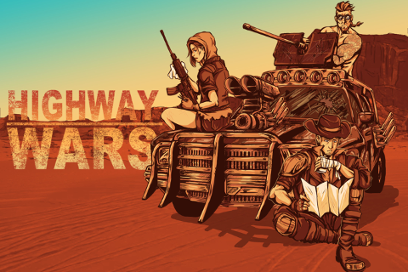 [Hosted Game] Highway Wars v.1.0.4 ACOM MOD
​
💾 Name of the game:
Highway Wars
⌛️ Version:
v.1.0.4
Root needed?
No: you can play and install this app without root permissions.
📡 Internet required?
No: you can play this game even without any Internet Connection.
Game Description:
Highway Wars
Become a road warrior in the arid plains of the 21st century! Take the role of a highway marshal in a bid to enforce the rule of civilization on a post-apocalyptic world. Will you prevent the sacking of the last remaining free cities, rule over them as a warlord, or attempt to seek a better future for humanity on another planet?
Highway Wars is a 190,000-word interactive post-apocalyptic novel by Adrao, where your choices control the story. It's text-based and fuelled by the vast, unstoppable power of your imagination.
• Play as male, female, or non-binary, romance other characters, and even get married!
• Enjoy a road trip along the desolate wastelands of the 21st century, and then conquer the lands around you
• Choose your crew from amongst a variety of different companions
• Several illustrations to enhance your experience
• Variety of different game paths, with 24 different endings
• Several different difficulty settings
Google Play Store Link:
Code:
https://play.google.com/store/apps/details?id=org.hostedgames.highwaywars
🔮MOD Features:
[ @Axiom 's Choice Of MOD ]
+
's 90% MOD
Completely Unlocked
AD Free
Note: I have made your Army in this game powerful enough to Conquer Entire Iberian Peninsula. Enjoy
​
MOD:
Driving: 90%

Shooting: 90%

Hand Combat: 90%

Cunning: 90%

Health: 2000%

Money: $967967967
Oil: 7777


Vehicle Kills: 90
Human Kills: 90
ARMY:
Army: 777

ATC: 777

Buggies: 7777

Bikes: 7777
ATC [Armored Truck Carrier]
Ammo: 7777

Armour: 7777

Speed: 2000

Maneuverability:

200

...

Supercharger

Air Intake

Old Times Machine Gun
Equipment:
Sunglasses
Driving_gloves
Kevlar_jacket
Beretta_handgun
SEAL Knife
Knuckleduster
Machete
Tomahawk
Hammer
Blackjack
Warhammer
Relationships:
Maria: 90%

Buggies Traitor: 90%

Teresa: 90%

Entourage: 90%

Sergio: 90%

Aurik: 90%

Wilda: 90%

UNA: 90%

General: 90%
MORAL:
Mercs: 90%

Traitors: 90%

Cannibals: 90%

Militia: 90%

Robots: 100%

Bullfighters: 90%
YouTube Video:
This gameplay hasn't been recorded yet. If you would like to thank Phytoplankton for this release, record your gameplay and share it
here
. You'll also gain SB Cash!
⚙️Installation Instructions:
Download the desired APK file below and tap on it to install it on your device. Make also sure to uninstall your game first if you have it installed!
✒️Credits to:
Phytoplankton
Download Link(s):
This and all my MODs are possible because of AXIOM
Please Dont Forget to Thank @Axiom
​