SB Cartel
Lv. Max
✔ Approved Releaser
eBook Releaser
Member for 1 year
SB Cash
Gender

Not specified
Country

Sbennytopia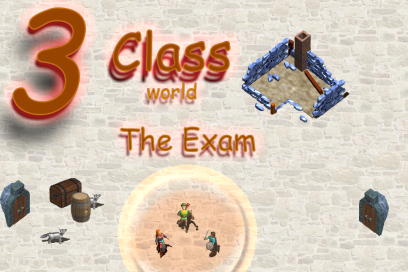 Title:
[Hosted Game] Land of Three Classes v.1.1.0 ACOM MOD
💾 Name of the game:
Land of Three Classes
⌛️ Version:
v.1.1.0
Root needed?
No
📡 Internet required?
No
Game Description:
Land of Three Classes
Writer: Christopher Salomon
You have spent years of learning the arts of a magician, trained for the swiftness of a rogue and did endless hours of swordfighting.Now your time has come to put it all to the test. Your day of examination has finaly come. Can you solve the riddles, beat the monsters and do the trickery that is needed to pass? You enter the maze and are left to your own devices. In the next room you can already here the patter of feet on the ground...
In the style of interactive books, the player is put in a fantasy world. In a maze like dungeon he goes from room to room in the search of the exit. The game itself is text based and all input is done via multiple choice. Nonetheless the game is complex in its own way, it allows solving riddles in more than just one way. The player (YOU), can chose what kind of profession he prefers. Whether to fight or to trick or use to magics. In a retro style you even get hand drawn Pen&Paper like glimpses of your surroundings. If you are stuck - you pray to god for help. Once you DO reach the exit your doings will be evaluated. Can you become a MASTER?
Welcome to TriCla
On this fantastic world, three classes have come into vogue. There is bit of history as to how that happened, but that will be told at another place and time. For now it is enough to say: "That is all right!"
Following classes are in fashion right now:
"Thief" (attribute: Dexterity), "Warrior" (attribute: Strength), "Magician" (attribute: Intelligence)
Because of this adventure being a "solo"-adventure and there is no (easy) way to control three persons at once, the author uses a "trick". The protagonist can "switch" between his main attributes. Each attribute can be changed by a potion of "attribute change" (dexterity / strength / intelligence). To the same degree one attribute is enhanced the other two will be reduced (till some minimum). You have a supply of 40 quaffs for each type of potion. The minimum an attribute can be reduced to is 5, the maximum 18.
Each potion has a cool down (timer). Within that cool down you are not able to take another sip of the same kind of potion. This cool down is kept even after drinking another kind of potion.
With that system the adventurer can (with a cool down) sort of switch between the classes and their skills. All skills (like disarming a trap, using weapons...) of all classes are available at all times, but whether or not you can apply them successfully heavily depends on the corresponding class-attributes!
Like any good roleplaying game your character also has a health attribute. You start with 10 health points. These may be reduced (fighting, falling, poison...). If you ever reach 0 points the exam will be interrupted and you will be judged.
The adventure is an exam. After passing the exam you will be a fully fledged member of the society of "TriCla", as of now you are still regarded as a pupil. In order to pass the exam successfully you must be agile, clever and creative and solve the different tests. You must ponder which skill to use in each situation. To pass the exam you must use your skills and gather experience. You need at least 1000 experience points to pass the exam successfully. There also is a time limit - but you must discover that by yourself.
It would be particulary impressive if you would master the whole exam and reach the exit!
Google Play Store Link:
Code:
https://play.google.com/store/apps/details?id=com.choiceofgames.threeclass
🔮MOD Features:
MOD:
Strength: 90%​
Intelligence: 90%​
Dexterity: 90%​
Health: 90%​
​
VERY IMPORTANT NOTE: Do NOT Choose "Change Attributes Option" and drink any potions! It will reset all MOD Points!
YouTube Video:
This gameplay hasn't been recorded yet. If you would like to thank Phytoplankton for this release, record your gameplay and share it
here
. You'll also gain SB Cash!
⚙️Installation Instructions:
Download the desired APK file below and tap on it to install it on your device. Make also sure to uninstall your game first if you have it installed!
✒️Credits to:
Phytoplankton
Download Link(s):
Please Dont Forget to Thank @Axiom
Last edited: