SB Cartel
Lv. Max
✔ Approved Releaser
eBook Releaser
Member for 1 year
SB Cash
Gender

Not specified
Country

Sbennytopia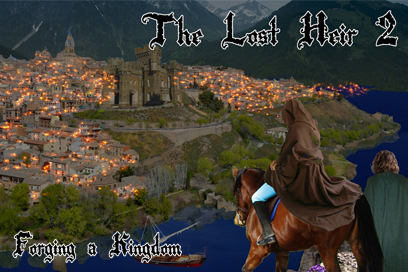 Title:
[Hosted Game] Lost Heir 2: Forging a Kingdom v.1.0.4 ACOM MOD
💾 Name of the game:
Lost Heir 2: Forging a Kingdom
⌛️ Version:
v.1.0.4
Root needed?
No
📡 Internet required?
No
Game Description:
The Lost Heir 2: Forging a Kingdom
Writer: Mike Walter

Art: Werner Mueck

Copy Editing: Paul Franzen

ChoiceScript Language Design & Development: Dan Fabulich
Unite the kingdom to take back your capital city! You'll need dragons, elves, and perhaps even demons to avenge your parents' murder in this fantasy epic! In "The Lost Heir 2," you'll continue as the prince or princess of Daria displaced from your palace after the murder of your parents. Face betrayal, seek romance, battle enemies in war, and navigate the intrigues of court. The fate of the kingdom of Daria is in your hands.

"The Lost Heir 2" is a 250,000-word interactive fantasy novel by Mike Walter—the second of a trilogy—where your choices control the story. The game is entirely text-based—without graphics or sound effects—and fueled by the vast, unstoppable power of your imagination.

• Play as female or male, gay, straight, or asexual.
• Meet elves, dwarves, gnomes, and more as you explore the furthest reaches of the land.
• Learn amazing new abilities from legendary teachers and search for powerful artifacts to help you on your way.
• March into heated battle and lead your army to victory!
• Fly a dragon, raise an undead army, discover alchemy, summon new demons and more!
About the Author
Mike Walter lives in Owen Sound, Ontario with his wife Sheri and children Marissa and Ethan. He is the author of Life of a Mobster, Life of a Wizard, and Paradox Factor.
Google Play Store Link:
Code:
https://play.google.com/store/apps/details?id=org.hostedgames.lostheir2
🔮MOD Features:
Full Unlocked A.C.O.M
(Axiom's Choice Of MOD)
Completely Unlocked
AD Free
Abilities:
Skills:
Knowledge:
Arcana: 90%​
Geography: 90%​
History: 90%​
Nature: 90%​
Relationship:
Money:
Kingdom:
Inventory:
I could have unlocked all the other items too but you can use gold to buy them! Otherwise Gold is of no use! Go Shopping!
Demon
Stones:
​
Most Important MOD Feature:
Days Left To gather Support: 77 (Increased from previous just measly 14)
YouTube Video:
This gameplay hasn't been recorded yet. If you would like to thank Phytoplankton for this release, record your gameplay and share it
here
. You'll also gain SB Cash!
⚙️Installation Instructions:
Download the desired APK file below and tap on it to install it on your device. Make also sure to uninstall your game first if you have it installed!
✒️Credits to:
Phytoplankton
Download Link(s):
Please Dont Forget to Thank @Axiom
​
Last edited: