SB Cartel
Lv. Max
✔ Approved Releaser
eBook Releaser
Member for 1 year
SB Cash
Gender

Not specified
Country

Sbennytopia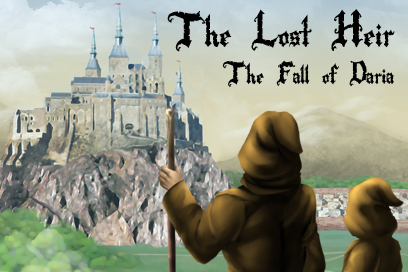 Title:
[Hosted Game] Lost Heir: The Fall of Daria v.1.1.0 A.C.O.M MOD
💾 Name of the game:
Lost Heir: The Fall of Daria
⌛️ Version:
v.1.1.0
Root needed?
No
📡 Internet required?
No
Game Description:
The Lost Heir: The Fall of Daria
Writer: Mike Walter

Art: Werner Mueck

Copy Editing: Paul Franzen

ChoiceScript Language Design & Development: Dan Fabulich
Take back the throne that was rightfully yours! When demon-summoning usurpers assassinate the king and queen, the right of rulership falls to you, their only child. Develop your own unique prince or princess, discovering a world of fantasy, magic, mystery, and adventure.
The Lost Heir: The Fall of Daria is an epic 145,000-word interactive fantasy novel by Mike Walter, where your choices control the story. The game is entirely text-based--without graphics or sound effects--and fueled by the vast, unstoppable power of your imagination.
Develop your own unique prince or princess, for good or evil! Become a noble knight, a greedy thief, an evil priest, a nature-loving druid, a charming bard, a deadly assassin, a wise monk, a well-traveled ranger, a martial cleric, a kind priest, a brutal thug, a steadfast guard, a powerful wizard or any combination you choose.
Your Highness, the kingdom of Daria awaits you!
Play as male or female, gay or straight.

Pursue love interests, make friends, or be a loner.

Uncover the mysteries of demon summoning.

Uncover and collect legendary magical items and treasure.
Google Play Store Link:
Code:
https://play.google.com/store/apps/details?id=org.hostedgames.lostheir1
🔮MOD Features:
Full Unlocked A.C.O.M
(Axiom's Choice Of MOD)

Completely Unlocked
AD Free
MOD:
Agility: 90%​
Willpower: 90%​
​
Skills:​
Archery: 90%​
Unarmed: 90%​
​
Knowledge:​
Arcana: 90%​
​
Gold: 967967967​
​
Demonstones:​
Runebag unlocked​
Daanda unlocked​
​
Items Unlocked:​
Gloves Of Archery ​
Backpack ​
Note: I could have unlocked all the items but you can buy them using gold! Otherwise Gold is useless! Go Shop!
​
​
​
Relationships:​
Foster: Parent 90%​
Jess: 90%​
YouTube Video:
This gameplay hasn't been recorded yet. If you would like to thank Phytoplankton for this release, record your gameplay and share it
here
. You'll also gain SB Cash!
⚙️Installation Instructions:
Download the desired APK file below and tap on it to install it on your device. Make also sure to uninstall your game first if you have it installed!
✒️Credits to:
Phytoplankton
Download Link(s):
Logo Credit:
@MrOnline
​
Last edited: