SB Cartel
Lv. Max
✔ Approved Releaser
eBook Releaser
Member for 1 year
SB Cash
Gender

Not specified
Country

Sbennytopia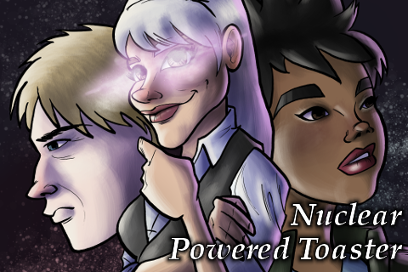 [Hosted Game] Nuclear Powered Toaster v.1.0.1 ACOM MOD

​
💾 Name of the game:
Nuclear Powered Toaster
⌛️ Version:
v.1.0.1
Root needed?
No: you can play and install this app without root permissions.
📡 Internet required?
No: you can play this game even without any Internet Connection.
Game Description:
Nuclear Powered Toaster
Writer: Matt Simpson

Artwork: Jack Uzcategui

Beta: @mmorr0514

ChoiceScript Language Design & Development: Dan Fabulich
It's always a bit stressful on graduation day. The uncertainty of the future, the excitement of endless possibilities, and of course getting blown out of the sky by a weapon that should no longer exist. Welcome to Earth in the 24th century.
"Nuclear Powered Toaster" is a 160,000 word interactive sci-fi novel by Matt Simpson, where your choices control the story. It's entirely text-based—without graphics or sound effects—and fueled by the vast, unstoppable power of your imagination.
Humanity is a pale shadow of its former glory after two nuclear wars and living under the constant threat of orbital attack. You…won't really be able to change any of that, but if you play your cards right, you might just live to see another sunrise, and possibly even unravel a sinister plan!
• Play as smuggler Alexi Beaumont, or superpowered government agent Fiorella Branford for two distinct experiences.
• Meet new and interesting people on Duck Mountain, and try not to be incinerated by them!
• Team up with a henchman, an actor, or the solar system's oddest janitor.
• Uncover a global conspiracy and bring down a mysterious terrorist...if you can.
• Resolve situations with wits, force, or just harness the erratic power of pure insanity.
• Endeavor to keep on good terms with your comrades, or risk turning an ally into an enemy!
Comedy, action, and a pinch of absurdity await those who board the Nuclear Powered Toaster!
Google Play Store Link:
Code:
https://play.google.com/store/apps/details?id=org.hostedgames.nuclearpoweredtoaster
🔮MOD Features:
[ @Axiom 's Choice Of MOD ]
Completely Unlocked
AD Free
​
MOD:
Mental Stats
Intelligence: 90%

Ingenuity: 90%

Influence: 90%

Insanity: 90% in MOD.mk6

Insanity: 0% in MOD.mk7 [Never Increase]
Physical Stats
Special: 90%

Strength: 90%

Marksmanship: 90%

Endurance: 90%
Relationships:
Alexi thinks finding you was worth the minor concussion.
Fiorella thinks she doesn't want to do a mission without you ever again.
Name thinks that the only thing stopping him from voting you president of the world is that you're not running. And that it's not a real thing. Not to mention being prohibited from voting due to a couple of tiny little felony convictions.
Latasha thinks you've helped give her life meaning.
Elgin thinks you're his inspiration.
Train thinks that you could be the fabled Best Goodest Guy Ever! The legend is real!
YouTube Video:
This gameplay hasn't been recorded yet. If you would like to thank Phytoplankton for this release, record your gameplay and share it
here
. You'll also gain SB Cash!
⚙️Installation Instructions:
Download the desired APK file below and tap on it to install it on your device. Make also sure to uninstall your game first if you have it installed!
Hey Awesome People of Sbennytopia,
Author of this game Matt Simpson AKA @Weview contacted me and asked me that if you loved this game to please purchase the game to support him after you guys have enjoyed the ACOM. He & his wife struggling with medical bills for
their
older daughter after a surgery she had this summer and income from this story can help him out with that.
Its not much but if you can spare the buck for cup of coffee please consider supporting him
and lets hope he brings up more awesome stories in the future
​
Download Link(s):
This and all my MODs are possible because of AXIOM
Please Dont Forget to Thank @Axiom
​
Last edited: