SB Cartel
Lv. Max
✔ Approved Releaser
eBook Releaser
Member for 1 year
SB Cash
Gender

Not specified
Country

Sbennytopia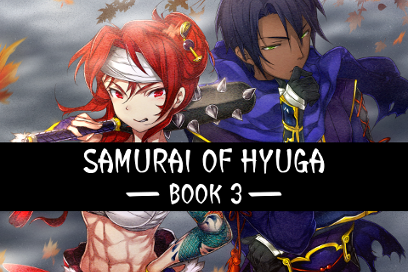 [Hosted Game] Samurai of Hyuga Book 3 v.1.0.2 ACOM MOD
​
💾 Name of the game:
Samurai of Hyuga Book 3
⌛️ Version:
v.1.0.2
Root needed?
No: you can play and install this app without root permissions.
📡 Internet required?
No: you can play this game even without any Internet Connection.
Game Description:
Samurai of Hyuga Book 3
Writer: Devon Connell

Beta @mmorr0514

Art: Kanitama Corokke

ChoiceScript Language Design & Development: Dan Fabulich
Life isn't getting any easier for our favorite ronin! The journey continues in the land of silk and steel, where fantasy and reality clash and tough choices await you on every page. Get ready to prove why you're the toughest ronin around.
"Samurai of Hyuga Book 3" is the mind-shattering 230,000 sequel to your favorite interactive tale by Devon Connell, where your choices control the story. It's entirely text-based—without graphics or sound effects—and fueled by the vast, unstoppable power of your imagination.
Become the judge, jury and executioner of your peers. Walk the path of the detective, unravel a demonic mystery—or be consumed by it! Face your past and fight for your future as the student becomes the teacher. Discover the line between lover and monster, and be prepared to cross it.
• Take the law into your own hands as you bring justice with sharpened steel!
• Unravel a demonic mystery and discover the truths you were never meant to know!
• Find love (or something like it) as you do battle against true despair!
That and so much more await you in the third book of this epic series!
Google Play Store Link:
Code:
https://play.google.com/store/apps/details?id=org.hostedgames.samuraiofhyuga3
🔮MOD Features:
[ @Axiom 's Choice Of MOD ]
+
[ 's 90% MOD ]
Completely Unlocked
AD Free
​
MOD:
Attunement:​
Book 1: 90%

Book 2: 90%

Book 3: 90%
Observation: 90%

Deduction: 90%
YouTube Video:
This gameplay hasn't been recorded yet. If you would like to thank Phytoplankton for this release, record your gameplay and share it
here
. You'll also gain SB Cash!
⚙️Installation Instructions:
Download the desired APK file below and tap on it to install it on your device. Make also sure to uninstall your game first if you have it installed!
✒️Credits to:
Phytoplankton
Download Link(s):
This and all my MODs are possible because of AXIOM
Please Dont Forget to Thank @Axiom
​