SB Cartel
Lv. Max
✔ Approved Releaser
eBook Releaser
Member for 1 year
SB Cash
Gender

Not specified
Country

Sbennytopia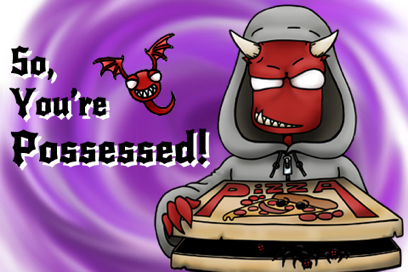 [Hosted Game] So, You're Possessed! v.1.1.1 ACOM MOD
​
💾 Name of the game:
So, You're Possessed!
⌛️ Version:
v.1.1.1
Root needed?
No: you can play and install this app without root permissions.
📡 Internet required?
No: you can play this game even without any Internet Connection.
Game Description:
So, You're Posssessed!
Writer: Tony R. Smith & Beth Townsend

Art: Tony R. Smith & Beth Townsend

ChoiceScript Language Design & Development: Dan Fabulich
Love a good "demon meets human, demon uses human, demon unlocks apocalyptic force within human" story? Help uncover the mysterious plot that draws an eclectic group of divine beings together and save your soul!
So, You're Possessed! is a 50,000-word contemporary fantasy novel where your choices impact how the tale unfolds. It's entirely text-based—without graphics or sound effects—and fueled by the vast, unstoppable power of your imagination.
Can you keep your dark side in check when your world turns upside down? Will you nurture a team of friends to rally at your side or fight your demons alone? Because a lousy delivery job, an unemployed roommate, and delayed graduation aren't stressful enough without adding an epic battle between the forces of good and evil to the list!
Choose carefully! It's going to take a little mortal ingenuity, divine intervention, and plain dumb luck to survive this first installment of a multipart series. Try the first two chapters for free!
• Battle for control of your soul in this 50,000-word contemporary fantasy.
• Half game/half story, filled with action and adventure, angels and demons, peril and pizzas!
• Play as male or female; gay, straight, or bisexual.
• Unique opportunities to customize your character impact the plot!
• Build friendships or alienate allies while fighting your inner—and outer—demons.
• 25 achievements to unlock!
Google Play Store Link:
Code:
https://play.google.com/store/apps/details?id=org.hostedgames.soyourepossessed
🔮MOD Features:
[ @Axiom 's Choice Of MOD ]
+
[ 's 90% MOD ]
Completely Unlocked
AD Free
​
MOD:
ALL ABOUT YOU
-----------------------------
Name: Phytoplankton Charr
Gender: Male
Age: 21
PERSONALITY :
Bloodthirsty: 1% In Control: 99%
NOTORIETY :
Anonymous: 99% Infamous: 1%
RELATIONSHIPS:
Sidney: 90%

Vex: 90%

Holden: 90%
YouTube Video:
This gameplay hasn't been recorded yet. If you would like to thank Phytoplankton for this release, record your gameplay and share it
here
. You'll also gain SB Cash!
⚙️Installation Instructions:
Download the desired APK file below and tap on it to install it on your device. Make also sure to uninstall your game first if you have it installed!
✒️Credits to:
Phytoplankton
Download Link(s):
This and all my MODs are possible because of AXIOM
Please Dont Forget to Thank @Axiom
​