SB Cartel
Lv. Max
✔ Approved Releaser
eBook Releaser
Member for 2 years
SB Cash
Gender

Not specified
Country

Sbennytopia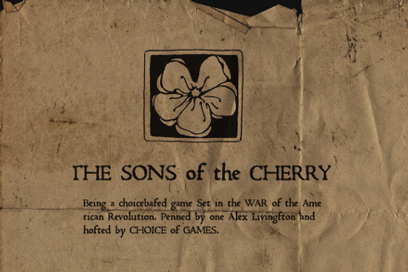 Title:
[Hosted Game] Sons of the Cherry v.1.2.0 A.C.O.M MOD
💾 Name of the game:
Sons of the Cherry
⌛️ Version:
v1.2.0
Root needed?
No
📡 Internet required?
No
Game Description:
Sons of the Cherry
Writer: Alex Livingston
ChoiceScript Language: Dan Fabulich
Espionage and arcane magic in the American Revolution. Choose a side or go it alone in the secret war for the soul of the new nation. Use multiple magic disciplines to reach your goals and change history. Part of the Waking Cassandra series.
1/5 Stars! Its a shitty game...
Google Play Store Link:
Code:
https://play.google.com/store/apps/details?id=org.hostedgames.sonscherry
🔮MOD Features:
Please Dont Forget to Thank:
MOD Unlocked
Unlocked
AD-Free
RED

MOD
Spooky: 90%

Preservation: 90%

Physicality: 90%
BLUE

MOD
Sunlit: 90%

Altruism: 90%

Intellect: 90%
Please Remember These Mods Are Only Available @Sbenny
If the MOD doesn't work or you get any error! Post the screenshot along with you phone model or OS version!
YouTube Video:
This gameplay hasn't been recorded yet. If you would like to thank Phytoplankton for this release, record your gameplay and share it
here
. You'll also gain SB Cash!
⚙️Installation Instructions:
Download the desired APK file below and tap on it to install it on your device. Make also sure to uninstall your game first if you have it installed!
MOD Author:
Phytoplankton
Download Link(s):