SB Cartel
Lv. Max
✔ Approved Releaser
eBook Releaser
Member for 1 year
SB Cash
Gender

Not specified
Country

Sbennytopia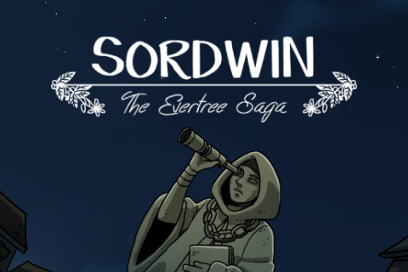 [Hosted Game] Sordwin: The Evertree Saga v.1.0.1 ACOM MOD [updated]
​
💾 Name of the game:
Sordwin: The Evertree Saga
⌛️ Version:
v.1.0.1
Root needed?
No: you can play and install this app without root permissions.
📡 Internet required?
No: you can play this game even without any Internet Connection.
Game Description:
Sordwin: The Evertree Saga
Writer: Thom Baylay

Beta Testers: @mmorr0514

Art: Sylvia P.

ChoiceScript Language Design and Development: Dan Fabulich
Set sail for adventure and mystery on the island of Sordwin. Explore the town in secret or in style, meet and mingle with the island's residents, wield weapons and magic and uncover clues before darkness falls!
"Sordwin: The Evertree Saga" is an immersive 440,000 word interactive experience by Thom Baylay, and the second book in the Evertree Saga. It's entirely text-based--without graphics or sound effects--and fueled by the vast unstoppable power of your imagination.
A simple request from a wealthy lord is about to get a lot more complicated when you find yourself sailing for an island under quarantine. Will you try to help the terrified townsfolk, or is completing the mission your highest priority? Enter an open world, where the choices you ignore matter as much as the ones you explore and where every interaction has a reaction.
• Play as male, female or non-binary; gay, straight, bisexual or asexual.
• Continue the story started in Evertree Inn or play as a brand new adventurer.
• Make enemies and friends; continue a growing love story or find new romance with all new characters.
• Boldly confront the townsfolk or lurk in the shadows as you uncover clues.
• Battle with any weapon you can imagine or unleash an impressive arsenal of spells.
• Overcome obstacles with multiple different skills.
• Customise your character's appearance and personality.
• Drink with pirates in the tavern, test your faith at the temple, explore the abandoned observatory and much more.
Find out if you have what it takes to survive on Sordwin!
NOTE: Sordwin is sequel to Evertree Inn | MOD APK - [Hosted Game] Evertree Inn v.1.1.6 ACOM MOD [updated]
Google Play Store Link:
Code:
https://play.google.com/store/apps/details?id=org.hostedgames.sordwin
🔮MOD Features:
Character:
Gold: $967967967 ​
Arrows: 777​
Health: 500​
Mana: 7000​
Combat:
Athletics: 90%​
Prowess: 90%​
Combat: Physically, you are the pinnacle of athletic perfection, able to accomplish near-impossible feats with ease. In combat, you are all but invincible: a near unstoppable force with your staff.
​
Guile:
Deception: 90%​
Stealth: 90%​
Guile: When it comes to deception, you are a master of lies, completely unreadable and able to convince people of the most outlandish falsehoods. You are able to become all but invisible when the occasion calls for it; there is no lock or pocket beyond your skill, and you can enter any fortress.
​
Perception:
Intuition: 90%​
Observation: 90%​
Perception: Your awareness of the surroundings is almost omniscient. Nothing escapes your notice, and your skill with a bow is legendary. When it comes to other people, you find that your understanding of the true meaning in their words is rarely wrong.
​
Magic:
Spellcasting: 90% ​
Will: 90%​
Magic: When it comes to spellcasting, you are phenomenally powerful, so long as you have the mana to fuel your huge arsenal of spells. Your mind is like a fortress. Even the most powerful sorcerer could never enchant you. This also provides you with a huge reserve of mana from which to draw when casting your spells.
​
Suspects:
(Suspects with a higher % will be more co-operative.)
Captain Ruby Redburg: 90%

Oriana: 90%

Hayden: 90%

Ruby: 90%

Swordwin: 90%

Pete: 90%

Seb: 50%

Moira: 90%

Carlotta: 90%

Mort: 90%

Beth: 90%

Lolli: 90%
What Am I Carrying:
Books:
Combat: Becoming a Master of Melee.

Archery: Becoming a Master Marksman.

Spellcasting: Becoming a Master of Magic.

Astronomy: The Lost Art.

Monstrology: An Encyclopaedia of Monsters.

Races: The Definitive Guide to the Races of the Empire.

Religion: The Pantheon of Five.

Sordwin: A Pocket Guide.

Worlds Apart: Foreign Lands and Beyond
Miscellaneous Items:
You have collected several items on your travels.
These include:
A small brooch bearing the Wand and Parchment of Tyr, to remind you of home;

A twig which you collected from the glade of the Evertree, to remind you of your experiences there;

The Memoirs of Mallen Dupree one day you swear you'll get around to reading them;

A golden knife, taken from The Mighty;

A golden pendant marked with a five-pointed star;

An arrow with a golden head; and

An apple for your pony when you return to Lux.
You also have a coin purse attached to your belt which contains 967967967 gold, your staff, and a hunting bow with a quiver of 777 arrows.
YouTube Video:
No videos yet. If you would like to thank Phytoplankton and gain some extra SB Cash, record your gameplay and share it
here
.
⚙️Installation Instructions:
Download the desired APK file below and tap on it to install it on your device. Make also sure to uninstall your game first if you have it installed!
✒️Credits to:
Phytoplankton
Download Link(s):
Please Dont
Ever Forget to Thank @Axiom for Making All This Possible
​
Last edited: