SB Cartel
Lv. Max
✔ Approved Releaser
eBook Releaser
Member for 1 year
SB Cash
Gender

Not specified
Country

Sbennytopia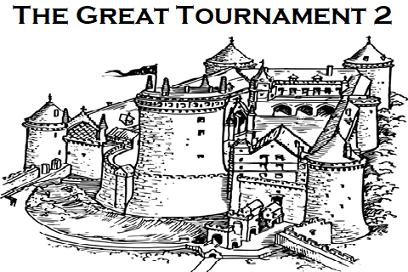 [Hosted Game] The Great Tournament 2 v.1.0.9 ACOM MOD
​
💾 Name of the game:
The Great Tournament 2
⌛️ Version:
v.1.0.9
Root needed?
No: you can play and install this app without root permissions.
📡 Internet required?
No: you can play this game even without any Internet Connection.
Game Description:
The Great Tournament 2
Writer: Philip Kempton

Beta: @mmorr0514

ChoiceScript Language Design & Development: Dan Fabulich
In this sequel to The Great Tournament, continue your quest to defend the kingdom of Magincia. Play as a Knight, Lord, or Prince in this medieval fantasy where every choice you make affects the story. Lead armies in battle against powerful foes or use diplomacy to resolve conflicts.
"The Great Tournament 2" is a 300,000 word interactive low fantasy novel by Philip Kempton, where your choices control the story. It's entirely text-based—without graphics or sound effects—and fueled by the vast, unstoppable power of your imagination.
• Character generation and random events ensures no one game is the same.
• Play as a devoted knight, honorable lord, or ruthless tyrant.
• Multiple storylines with over a dozen different endings.
• Use diplomacy or war to resolve global conflicts.
• Raise and train an army to defend the kingdom.
• Conqueror territories and expand your kingdom.
• Manage village and kingdom finances.
• Fight waves of barbarian armies in Survival Mode.
Google Play Store Link:
Code:
https://play.google.com/store/apps/details?id=org.hostedgames.greattournament2
🔮MOD Features:
[ @Axiom 's Choice Of MOD ]
Completely Unlocked
AD Free
​
MOD:
Name: Lord Phytoplankton Charr

Strength: 90

Agility: 90

Leadership: 90

Intelligence: 90

Wisdom: 90

Diplomacy: 90
Current Health: 90
Gold: 967935795
Defence: 90
Fortification: 90
Army:
Militia: 700

Guards: 700

Soilders: 700

Knights: 700

Archers: 700

Heavy Cavalary: 700
Catapults: 90
Battering Ram: 7
YouTube Video:
This gameplay hasn't been recorded yet. If you would like to thank Phytoplankton for this release, record your gameplay and share it
here
. You'll also gain SB Cash!
⚙️Installation Instructions:
Download the desired APK file below and tap on it to install it on your device. Make also sure to uninstall your game first if you have it installed!
Download Link(s):
This and all my MODs are possible because of AXIOM
Please Dont Forget to Thank @Axiom
​
Last edited: