SB Cartel
Lv. Max
✔ Approved Releaser
eBook Releaser
Member for 1 year
SB Cash
Gender

Not specified
Country

Sbennytopia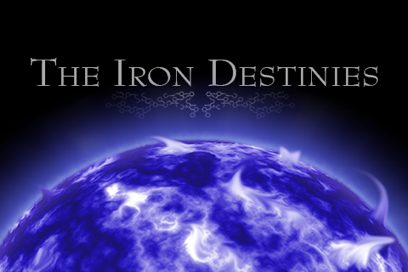 Title:
[Hosted Game] The Iron Destinies v.1.0.0 A.C.O.M MOD
💾 Name of the game:
The Iron Destinies
⌛️ Version:
v.1.0.0
Root needed?
No
📡 Internet required?
No
Game Description:
The Iron Destinies
Writer: David Berner

Art: David Berner

Copy Editing: Edward Cadmen and Rachel Renee.

Beta Testers: @Cicibby09

ChoiceScript Language Design & Development: Dan Fabulich
This is the story of Fe; an Iron atom that caused a supernova. As you take the helm of this atomic hero, soaring through the fabrics of space at the speed of light, take heed of the forces that are not only in plain sight, but also hidden in the darkness, for they are the keys to unlocking the secrets of the Cosmos.
"The Iron Destinies" is an interactive sci-fi novel by David Berner, where your choices control the story. It's entirely text-based--455,000 words, without graphics or sound effects--and fueled by the vast, unstoppable power of your imagination.
• Soar through the tales of a 455,000-word narrative of intrigue, intuition, and adventure.
• Solve the labyrinth of a dormant planet.
• Face the trials of the elements and become a god.
• Wage war with the living and the dead of a haunted planet..
• Be the gear that starts a mechanical solar system.
• Infuse yourself with a sword of destined greatness, or destined iniquity.
• Ignite the quarrel of creatures in a microscopic world.
• Crush planets; Devour worlds; Even travel through a Black Hole.
• Earn over 90 achievements and fulfill over 40 endings.
About the Author
David Berner is an author and designer, living in Washington state. He lives with his wife, son, and daughter and is currently completing his masters in creative writing. He has a dozen published books; has written scripts for graphic novels; and has done the art for video game companies. He looks forward to the next chapter in life.
Google Play Store Link:
Code:
https://play.google.com/store/apps/details?id=org.hostedgames.irondestinies
🔮MOD Features:
Full Unlocked A.C.O.M
(Axiom's Choice Of MOD)
Unlocked

AD Free
MOD
aMAZEing: 90%

Annihilation: 90%

Benevolence: 90%

BlackHole: 90%

Deaths: 90%

Divinity: 90%

Flight: 90%

Ghostly: 90%

Intuition: 90%

Isolation: 90%

Malice: 90%

Mechanical: 90%

Mountainous: 90%

Oceanic: 90%

Warrior :90%
YouTube Video:
This gameplay hasn't been recorded yet. If you would like to thank Phytoplankton for this release, record your gameplay and share it
here
. You'll also gain SB Cash!
⚙️Installation Instructions:
Download the desired APK file below and tap on it to install it on your device. Make also sure to uninstall your game first if you have it installed!
MOD Author:
Phytoplankton
Download Link(s):
Please Dont Forget to Thank @Axiom
​