SB Cartel
Lv. Max
✔ Approved Releaser
eBook Releaser
Member for 1 year
SB Cash
Gender

Not specified
Country

Sbennytopia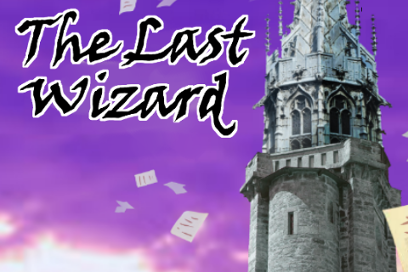 [Hosted Game] The Last Wizard v.1.0.1 ACOM MOD
​
💾 Name of the game:
The Last Wizard
⌛️ Version:
v.1.0.1
Root needed?
No: you can play and install this app without root permissions.
📡 Internet required?
No: you can play this game even without any Internet Connection.
Game Description:
The Last Wizard
It's a regular Tuesday evening when you are pulled from the Earth and sent to a place where magic still exists. You are given a wizard's tower filled with arcane knowledge that you are expected to learn. Thrust into a war between two nations, it's up to you to save the kingdom where you now live.
"The Last Wizard" is a 185,000 word interactive fantasy novel by Mike Walter, where your choices control the story. It's entirely text-based—without graphics or sound effects—and fueled by the vast, unstoppable power of your imagination.
Your choices will influence who rules the land and what happens to the civilians living there. Will you find love or will you strive to return to the life you were forced to leave behind? Will you save the kingdom, or will you betray the people for your own personal gain? The choice is yours!
• Play as male, female, genderfluid, or non-binary; gay, straight, or asexual
• Find romance with a variety of interesting characters.
• Learn and master multiple powerful spells.
• Build a powerful golem, ride a dragon, raise the dead, heal the sick, rain fire upon your enemies, fly, become invisible, summon lightning, enchant magical weapons...
• Acquire powerful magical artifacts.
• Save the kingdom or join the enemy.
• Return home to Earth or live your life in a fantasy world.
• Change the fates of two nations!
Google Play Store Link:
Code:
https://play.google.com/store/apps/details?id=org.hostedgames.lastwizard
🔮MOD Features:
[ @Axiom 's Choice Of MOD ]
+
[ 's 90% MOD ]
Completely Unlocked
AD Free
​
MOD:
Name: Phytoplankton

Agile: 90%

Cerebral: 90%

Charming: 90%

Tough: 90%
Health: 100% [Never Decrease]
Festival Tickets: 967967967
Relationships:
King Rupert: 90%

Queen Destiny: 90%

Prince Adam 90%

Medow the Merchant 90%

Gertie the Guard: 90%

Raven the Thief 90%

Mel the Priest: 90%
Nations:
Equipment:
You hold a staff. You wear a ring. You wear a cloak.

You have the Master's Book of Epic Open.

You have the Master's Book of Epic Heal.

You have the Master's Book of Epic Mend.

You have the Master's Book of Epic Burn.

You have the Master's Book of Epic Familiars.

You have the Master's Book of Epic Enhancements.

You have the Amulet of Planewalking.

You have the Rod of Paralysis.
YouTube Video:
This gameplay hasn't been recorded yet. If you would like to thank Phytoplankton for this release, record your gameplay and share it
here
. You'll also gain SB Cash!
⚙️Installation Instructions:
Download the desired APK file below and tap on it to install it on your device. Make also sure to uninstall your game first if you have it installed!
✒️Credits to:
Phytoplankton
Download Link(s):
This and all my MODs are possible because of AXIOM
Please Dont Forget to Thank @Axiom
​