SB Cartel
Lv. Max
✔ Approved Releaser
eBook Releaser
Member for 1 year
SB Cash
Gender

Not specified
Country

Sbennytopia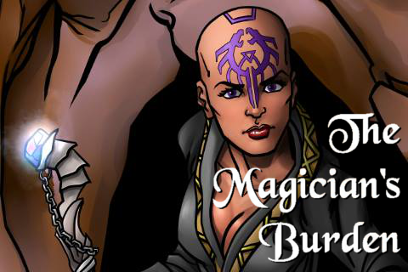 [Hosted Game] The Magician's Burden v.1.0.2 ACOM MOD
​
💾 Name of the game:
The Magician's Burden
⌛️ Version:
v.1.0.2
Root needed?
No: you can play and install this app without root permissions.
📡 Internet required?
No: you can play this game even without any Internet Connection.
Game Description:
The Magician's Burden
You are a magician living a fairly normal life in a small village outside of the Kingdom of Githrad. Deal with bullies, navigate your father's temper and alcoholism, and work at your various jobs. As well as being a clerk at your parents' general store, you can also choose between being a guard, a scribe, a farmer, or a thief.
You get to have fun, too, like playing in chess tournaments, sparring, reading at the library, exploring necromancer's caves, exploring the woods, and finding romance with the other villagers.
"The Magician's Burden" is a 225,000 word interactive fantasy novel by Samuel Harrison Young, where your choices control the story. It's entirely text-based—without graphics or sound effects—and fueled by the vast, unstoppable power of your imagination.
• Play as male, female, or non-binary; romance men, women, both, or no one at all
• Three different kinds of magic for you to choose from: stealth, light, or dark
• Dozens of stats detailing your skills, knowledge, attributes, relationships, and inventory
Oh, yeah. You're also hijacked by a demon named Zaleth.
Google Play Store Link:
Code:
https://play.google.com/store/apps/details?id=org.hostedgames.magiciansburden
🔮MOD Features:
[ @Axiom 's Choice Of MOD ]
+
[ 's 90% MOD ]
Completely Unlocked
AD Free
​
Basic Information:
Name: Phytoplankton

Mana: 700

Age: 18

Gold Coins: $967967967
Attributes:
Charisma: 90%

Intimidation: 90%

Intelligence: 90%

Deception: 90%

Willpower: 90%
Skills:
Speed: 90%

Melee: 90%

Strength: 90%

Long Ranged Weapons: 90%

Stealth: 90%
Magic:
Light Magic [Unlocked No matter what you choose]
Destruction Magic [Unlocked No matter what you choose]
Stealth Magic [Unlocked No matter what you choose]
Knowledge:
Warcraft: 90%

Agriculture: 90%

Diplomacy: 90%

Geography: 90%

History: 90%

Nature: 90%

Economics: 90%

Arcana: 90%
Relationships:
Killian: 90%

Zaleth: 90%

Mabelin: 90%

Rigel: 90%

Keano: 90%

Violet: 90%

Mowbow: 90%

Father / Theyo: 90%

Mother / Hadia: 90%

Percy: 90%
Inventory:
Candles, slingshot, stealthy shoes, magical pen, magical key, and marcasite.
​
YouTube Video:
This gameplay hasn't been recorded yet. If you would like to thank Phytoplankton for this release, record your gameplay and share it
here
. You'll also gain SB Cash!
⚙️Installation Instructions:
Download the desired APK file below and tap on it to install it on your device. Make also sure to uninstall your game first if you have it installed!
✒️Credits to:
Phytoplankton
Download Link(s):
This and all my MODs are possible because of AXIOM
Please Dont Forget to Thank @Axiom
​