SB Cartel
Lv. Max
✔ Approved Releaser
eBook Releaser
Member for 1 year
SB Cash
Gender

Not specified
Country

Sbennytopia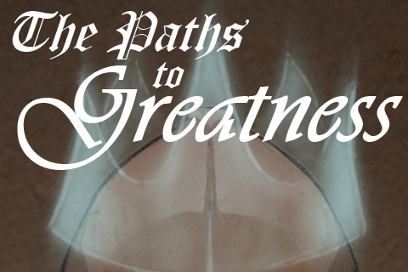 [Hosted Game] The Paths to Greatness v.1.0.0 ACOM MOD
​
💾 Name of the game:
The Paths to Greatness
⌛️ Version:
v.1.0.0
Root needed?
No: you can play and install this app without root permissions.
📡 Internet required?
No: you can play this game even without any Internet Connection.
Game Description:
The Paths to Greatness
Writer: Andrew Kenneth Specter

Beta Testers: @mmorr0514
Art: Robyn H

ChoiceScript Language Design and Development: Dan Fabulich
Your boring village life is interrupted one day when you are abducted and forced into the service of a mysterious and powerful Emperor and his army. Will you find friendship, love, or rebellion on this journey?
The Paths to Greatness is a 175,000 word interactive fantasy novel by Andrew Kenneth Specter, where your choices control the story. It's entirely text-based—without graphics or sound effects—and fueled by the vast, unstoppable power of your imagination.
It's up to you whether you defy the Emperor, or help him accomplish his goals, despite the devious plan he has in store for you.
Play as a man or woman and be gay, straight, asexual, or aromantic.

Romance your mentor, fellow apprentice, or the Emperor himself.

Travel across a vast lake in order to stop an uprising.

Participate in and win the fighting tournament, and then get ready for the ball.

Take fate into your own hands with one of more than fifteen endings.
The path to greatness is waiting…
Google Play Store Link:
Code:
https://play.google.com/store/apps/details?id=org.hostedgames.greatness
🔮MOD Features:
MOD:
Personal abilities:
Your strength, speed, and combat ability.
Athleticism: 90%
Your intelligence, wisdom, and cunning.
Brainpower: 90%
Your leadership, attractiveness, and persuasive speaking ability.
Charisma: 90%
Your performance in common tasks.
Skill: 90%
Reputation:
Empire: 90%
Relationships:
Non'Caesura Demosthenes Attaccabottoni
Friend: 90% Foe: 10%
Mentor
Friend: 90% Foe: 10%
Emperor Turvon Maganat
Friend: 90% Foe: 10%
YouTube Video:
No videos yet. If you would like to thank Phytoplankton and gain some extra SB Cash, record your gameplay and share it
here
.
⚙️Installation Instructions:
Download the desired APK file below and tap on it to install it on your device. Make also sure to uninstall your game first if you have it installed!
✒️Credits to:
Phytoplankton
Download Link(s):