SB Cartel
Lv. Max
✔ Approved Releaser
eBook Releaser
Member for 1 year
SB Cash
Gender

Not specified
Country

Sbennytopia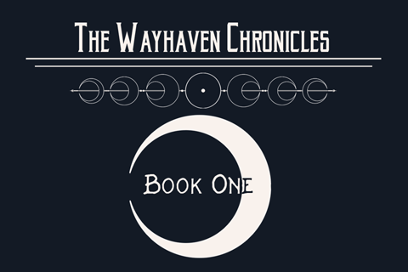 [Hosted Game] Wayhaven Chronicles: Book One v.1.0.5 ACOM MOD
​
💾 Name of the game:
Wayhaven Chronicles: Book One
⌛️ Version:
v.1.0.5
Root needed?
No: you can play and install this app without root permissions.
📡 Internet required?
No: you can play this game even without any Internet Connection.
Game Description:
Wayhaven Chronicles: Book One
Your first case as a detective is forcing you to open your eyes to a world bigger than you thought. But maybe it's better to keep them closed. Knowing too much doesn't help anyone sleep at night! Seems the supernatural didn't get the memo that nothing exciting ever happens in the little town of Wayhaven.
"The Wayhaven Chronicles: Book One" is a thrilling 440,000 word interactive fantasy novel by Mishka Jenkins, where your choices control the story. It's entirely text-based—without graphics or sound effects—and fueled by the vast, unstoppable power of your imagination.
Experience the big and small moments with a host of characters throughout this exciting twist on the usual supernatural tale—a story which will take you through heart-pounding romance, smile-filled friendships, and shiver-inducing drama.
• Play as female, male, or non-binary—with options to be straight, gay, or bisexual.
• Discover the start of distinct and lasting romances with the vampires of Unit Bravo.
• Define and refine relationships with a variety of characters-from friends, family, exes, and enemies.
• Decide how you will fulfill the job of detective, through Deduction, Combat, Science, or People skills.
• Discover the truth of what awaits in Wayhaven in a playstyle that suits your personality.
• Indulge in true moments of romance, friendship, drama, and fun!
Google Play Store Link:
Code:
https://play.google.com/store/apps/details?id=org.hostedgames.wayhaven1
🔮MOD Features:
[ @Axiom 's Choice Of MOD ]
+
[ 's 90% MOD ]
Completely Unlocked
AD Free
​
Professional Information:
Name: Phytoplankton Charr


Job Title:

Detective
Skills:
People: 90%
Combat: 90%
Science/Technology: 90%
Deduction/Knowledge: 90%
Professional Relationships:
Mayor Friedman: 90
Police Captain: 90
Personal Relationships:
Rebecca
Past Relationship: Very close relationship, even with the absences.
Current Relationship: 90%
Team Stats:
Ava du Mortain

Title: Commanding Agent
Height: 5'8"
Accent: British.
Description: Lean, solid build. Shoulder-length blonde hair, tied back into a tight knot. Pale cream skin. Light green eyes.
Flirt: 90
Friend: 90
Natalie Sewell
Title: Agent
Height: 6'
Accent: None.
Description: Athletic build. Cropped, dark brown hair. Tawny skin. Warm brown eyes.
Flirt: 90
Friend: 90
Farah Hauville
Title: Agent
Height: 5'4"
Accent: American.
Description: Lithe build. Medium-length, coiled black hair. Rich, dark brown skin. Amber eyes.
Flirt: 90
Friend: 90
Morgan
Title: Specialist Agent
Height: 5'7"
Accent: Unknown.
Description: Toned, curvaceous build. Shoulder-length layered dark hair. Tanned skin painted with freckles over face and neck. Grey eyes.
Flirt: 90
Friend: 90
YouTube Video:
This gameplay hasn't been recorded yet. If you would like to thank Phytoplankton for this release, record your gameplay and share it
here
. You'll also gain SB Cash!
⚙️Installation Instructions:
Download the desired APK file below and tap on it to install it on your device. Make also sure to uninstall your game first if you have it installed!
✒️Credits to:
Phytoplankton
Download Link(s):
This and all my MODs are possible because of AXIOM
Please Dont Forget to Thank @Axiom
​