SB Cartel
Lv. Max
✔ Approved Releaser
eBook Releaser
Member for 1 year
SB Cash
Gender

Not specified
Country

Sbennytopia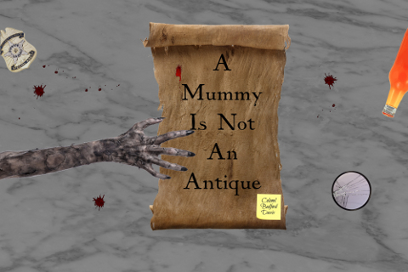 Title:
[Hosted Games] A Mummy Is Not An Antique v.1.0.0 A.C.O.M MOD
💾 Name of the game:
A Mummy Is Not An Antique
⌛️ Version:
v.1.0.0
Root needed?
No
📡 Internet required?
No
Game Description:
A Mummy Is Not An Antique
Writer: Randy Condon

MOD Beta Tester: @Cicibby09

ChoiceScript Language: Dan Fabulich
Battle the amok mummy of a disreputable love potion huckster while filming the story of the century! There is a news story here bigger than any antiques show. How will you cover it without getting killed and to what lengths will you go to bring home the story of the century?
A Mummy Is Not An Antique is a 52,000 word interactive novel by Randy Condon, where your choices control the story. It's entirely text-based—without graphics or sound effects—and fueled by the vast, unstoppable power of your imagination.
You play as the producer of a PBS antiques appraisal show, dutifully starting another on-site episode while managing the eccentric personalities of your cast and crew. Events go pear-shaped when a guest arrives with a mummified human body, allegedly the corpse of the local legendary Bog Mummy. Quickly a menagerie of forest shamans, a priest, show-security, a southern gentleman and his supposed grandchildren squabble with increasing fervor over ownership of the body.
• Play as male, female, or non-binary.
• Enjoy a comedy-horror adventure battling (and filming) the supernatural.
• Trade quips with the mummy of Professor Thadeus Frost, salesman extraordinaire of love potion and other dubious concoctions.
• Discover the secrets of the mysterious scroll behind all these shenanigans.
• Risk you and your crew's life and limb to get the story. But how far is too far? You decide.
• Five different endings available, depending upon your choices.
Google Play Store Link:
Code:
https://play.google.com/store/apps/details?id=org.hostedgames.mummyisnotanantique
🔮MOD Features:
Full Unlocked A.C.O.M
(Axiom's Choice Of MOD)
Full Unlocked
AD-Free
MOD:
Ambition: 90%
​
Ampathy: 90%
​
YouTube Video:
This gameplay hasn't been recorded yet. If you would like to thank Phytoplankton for this release, record your gameplay and share it
here
. You'll also gain SB Cash!
⚙️Installation Instructions:
Download the desired APK file below and tap on it to install it on your device. Make also sure to uninstall your game first if you have it installed!
✒️Credits to:
Phytoplankton
Download Link(s):
Please Dont Forget to Thank @Axiom