SB Cartel
Lv. Max
✔ Approved Releaser
eBook Releaser
Member for 1 year
SB Cash
Gender

Not specified
Country

Sbennytopia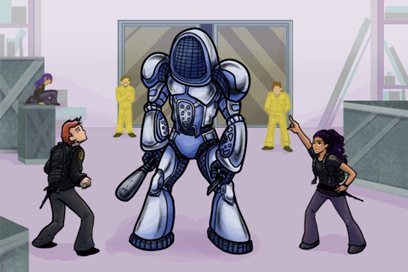 Title:
[Hosted Games] Founders Saga: The Culling v1.0.1 A.C.O.M MOD
💾 Name of the game:
Founders Saga: The Culling
⌛️ Version:
v.1.0.1
Root needed?
No
📡 Internet required?
No
Game Description:
Founders Saga: The Culling
Writer: Steve Spalding

Art: Rowena McKay

ChoiceScript Language Design & Development: Dan Fabulich
Killer robots, masked warriors in well-tailored robes, job interviews where you're judged on your skill with a stun baton -- this is all just another day in the world of The Founders -- a world where you either start a business, fight for one, or end up conscripted to The Farm.
This is your world and you must decide how you're going to survive in it.
Will you live by your brains, your business savvy, your silver tongue, or your ability to punch people really hard in the face? Will you be ruthless, striving for wealth and glory above all else, or honorable, relying on your friends and allies to get you through tough spots?
Will you fall in love?
Founders Saga: The Culling is the first episode in an interactive science fiction novel by Steve Spalding. It begins your journey towards founding a startup, earning your Slowgun, and discovering who you can trust in a world where business is total war.
• Purchase and equip powerful new gear to improve your Founder.
• Every conversation matters, and can unlock brand new ways to solve problems and improve your fortunes.
• Play as male, female, gay or straight.
• Build complex relationships with characters over time, maybe even fall in love.
• Discover side quests and new missions to improve your Founder.
Amazing Game: Really loved it 5/5 Stars! (
)
Google Play Store Link:
Code:
https://play.google.com/store/apps/details?id=org.hostedgames.founderssaga
🔮MOD Features:
Full Unlocked A.C.O.M
(Axiom's Choice Of MOD)

Unlocked
AD Free
MOD:
Engineering: 90%
​
Marketing: 90%
​
Charisma: 90%
​
Combat: 90%
​
Wealth:
967967967 Chips
Relationships:
Equipment:
Data band
​
Smart eyes
​
Smart cloths
​
Smart phone
​
Rest of the equipment I have purposefully not unlocked so that you can buy them using your 967967967 Cash! That will be very satisfying!
YouTube Video:
This gameplay hasn't been recorded yet. If you would like to thank Phytoplankton for this release, record your gameplay and share it
here
. You'll also gain SB Cash!
⚙️Installation Instructions:
Download the desired APK file below and tap on it to install it on your device. Make also sure to uninstall your game first if you have it installed!
✒️Credits to:
Phytoplankton
Download Link(s):
Please Dont Forget to Thank @Axiom