✞ Out Of The Dark ✞
From the Hell
Active User
Member for 2 years
MiniTool Power Data Recovery Business Technician v8.6 [Sprache: Mehrsprachig]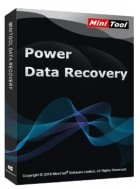 Description:
Format: exe
Archiv: rar
Größe Archiv: 165MB
Plattform: Windows
Sprache:Multi-Deutsch
MiniTool Power Data Recovery ist eine schreibgeschützte Dateiwiederherstellungssoftware und Datenwiederherstellungssoftware. Power Data Recovery Software kann Ihnen dabei helfen, alle Ihre Daten wiederherzustellen, unabhängig davon, ob die Daten versehentlich gelöscht, formatiert, neu partitioniert, abgestürzt oder von Viren befallen wurden. Power Data Recovery kann Ihr Gerät Sektor für Sektor scannen, um die auf Ihrem Gerät verbleibenden Daten wiederherzustellen. Power Data Recovery bietet ein Deep Scan-Modul, mit dem Rohdatenformate wie Microsoft Office-Dateien, digitale Grafiken / Bilder und Audio- / Videodateien gescannt und analysiert werden können. Bitte besuchen Sie die Deep Scan-Seite für eine vollständige Liste der Raw-Dateiformate.
Funktionsübersicht:
• Daten nach versehentlichem Löschen wiederherstellen
• Stellen Sie Daten nach einem versehentlichen Format wieder her
• Wiederherstellen von Daten von einem nicht zugreifbaren Volume (logisches Laufwerk)
• Wiederherstellen von Daten nach einer FAT-Beschädigung
• Wiederherstellen von Daten nach der Partitionierung (fdisk)
• Daten von einem abgestürzten physischen Gerät wiederherstellen
• Wiederherstellen von Daten nach einer MBR-Beschädigung
• Stellen Sie Daten von einem Festplattenlaufwerk, einer Kamerakarte, einem USB-Laufwerk, einer Zip-Datei oder einer Diskette wieder her
• Stellen Sie Daten für alle Fehler außer physischen Schäden wieder her
Installation Instructions:
1. Install the program.
2. Copy wtsapi32.dll to the program directory.
3. Run the program.
4. Enjoy!
Attention!
Antivirus programs may mistakenly identify wtsapi32.dll as a virus.
This can happen because the module is protected VMProtect.
Add the wtsapi32.dll module to the exception in the anti-virus program.
[For check]
SHA256 (pdr-setup-860.exe) - df89a32e38eb361178694f1d8f814e7f029120c7287c1e1d5d8b42e5eacd5d0d
SHA256 (wtsapi32.dll)(x86) - c26d64590ce4dd097f68f9382697be8e520969e5fe3b0f22a09b89954dd06a14
SHA256 (wtsapi32.dll)(x64) - 78c31d35f5c4967535eaaebcf8bd15c4ee7f86f94e5f0f4af79929ac83175aaf
Download Link(s):
Downloaded 2 times