🌜Freelance 💜 Writer 🌛
Staff member
👋 Community Team
Approval Team
eBook Releaser
Active User
Member for 2 years
SB Cash
Gender

Female
Device

Galaxy Note 3, Galaxy note 4, and Samsung Tab A
Country

United States of America
Name of the app you are reviewing:
Choices Stories you Play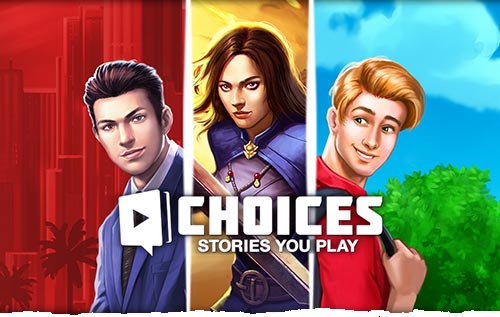 Link to the content you're reviewing on our site (optional):
MOD APK - Choices: Stories You Play v2.5.2 - Free Premium Choices, Everything Unlocked & Free Clothes (updated
Choices is an app that has multiple stories that you unlock one chapter at a time. Within these stories there are different choices that you can make that affect the outcome of the story. Premium choices can even unlock exclusive special content and because your choices affect the outcome, each story is different if you replay it.
Review:
I have been playing this game ever since the original beta was released by Pixelberry. As a fan, I would definitely recommend this game to teenagers and young adults who love interactive stories. It is a great game that can appeal to many different people depending on the story you choose to play. Personally, I love the High-Fantasy high-romance story style types.
These are just some of the different categories and stories here on Choices:
Out of these, I would have to say that my favorites are The Crown and the Flame, The Royal Romance, Blood Bound and A Courtesan of Rome. Here are little blurbs about each of those stories so you can get to know them a little more:
If I had to choose one to be my all-time favorite it would be The Royal Romance. The story is about a waitress in New York City who meets the Royal Prince of Cordonia as he is visiting America for his "Bachelor Party" but there is a twist... He hasn't chosen a bride yet. In Cordonia the custom is to have a Royal Courting Season where potential future queens showcase their skills to the royal family and the people of Cordonia while competing to become queen. The Main character and the Prince hit it off and she returns to Cordonia with him and his friends to compete to become his bride.
When each of these stories begins, you will have a little tutorial period to get used to the mechanics of the game. Premium choices may show up from time to time that can affect your outfits and the outcomes of the chapter. However, in the modded version it no longer shows the number of gems that these choices cost as they have been modified to become unlocked without paying. These typically can still be recognized by the color of the border around the bubble with the choice like this:
This is the Grey Bubble for a Standard Choice:
This is the Gold one for a Premium Choice:
Typically the premium outfits change how the NPC's in the game react to you and treat you. For instance, if you go to a special cultural event dressed in Historically accurate clothing they become more eager to speak with you and reveal story plotlines and scenes that otherwise may have been locked. This is typically where a lot more of the romance-heavy scenes happen as well.
All in all I absolutely love the game. The only thing I really don't like is that it takes soooooo much time to recover "keys" to unlock chapters and you can only hold two at a time and because the keys are "server-sided" they cannot be modded.
Would you recommend this to other users?
Yes, I would recommend it to Young Adults and Teenagers who love interactive Romance stories and young adult romance novels.
Rating (1-5):